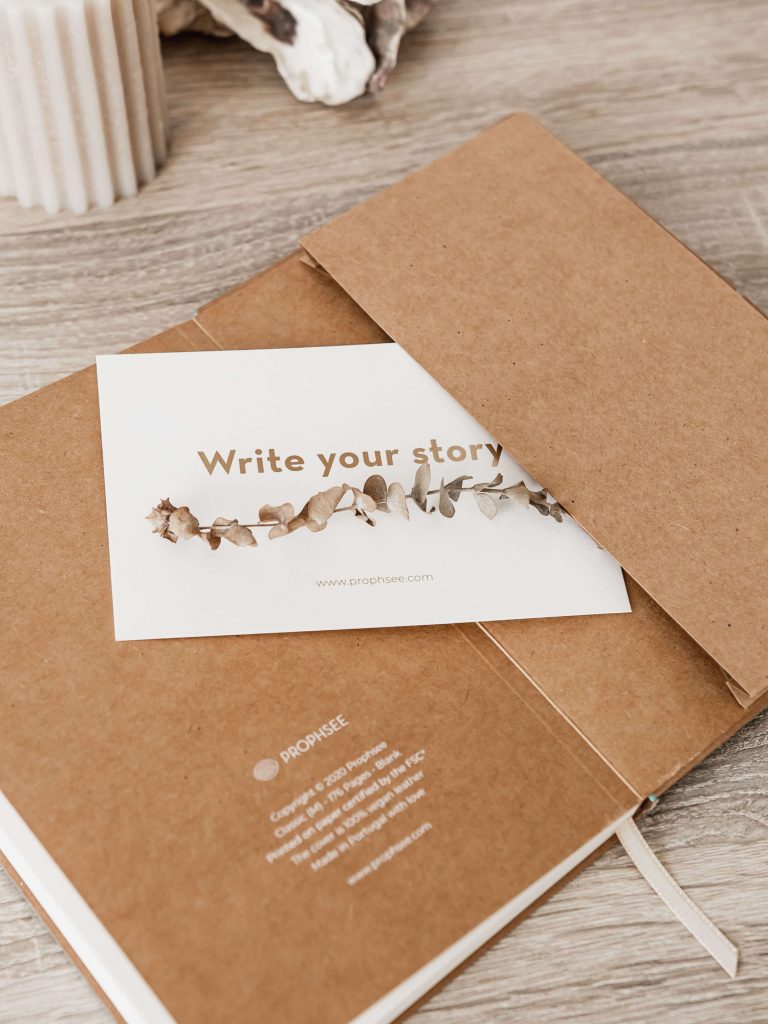 Why would anyone need a life makeover? Or how important is a lifestyle makeover? How to have a life makeover in 15 days? Does it mean changing from who I'm not to someone new, someone different?
These may be some of the questions running through your mind, and I understand.
But, on the other hand, maybe you don't have a question but feel bored with your life right now.
You're so unmotivated to do anything you wake up each day sighing and dreading going back to your daily routine. And you keep asking yourself, "am I living my purpose" is this all there is to my life?
If you find yourself going this kind of circle. Then, my friend, you should consider having a life makeover.
A lifestyle makeover doesn't have to be daunting and scary. Interestingly, it takes only little adjustments to things we do and our day-to-day habits and routine to make significant life changes and have a lifestyle makeover.
So, if you're scared about taking a life makeover challenge because you're uncertain about finishing it or probably scared by the idea of making changes in your life.
If you're lost and need help knowing where to begin with having a life makeover, don't fret about it! I understand because I've been there.
A Personal Story:
Earlier this year, I felt so stuck in my business that I would wake up and couldn't do anything for days. And days became a few weeks and a few weeks to a month.
At that point, I knew I had to address this issue, and a life makeover became necessary. I was so scared.
So I delved into journalling for clarity, and about a week later, I got a better insight and knew the direction to take in my business and life.
So, feeling scared, unmotivated, bored, and tired with what you're going through and dreading the idea of a lifestyle makeover is okay.
However, what's not okay is staying that way and not taking action, no matter how small or insignificant it may seem.
Therefore in this blog post, you'll find the meaning of a life makeover, simple yet significant steps, and a life makeover checklist. So you can have a lifestyle makeover and become a better version of yourself.
What Is a Life Makeover?
A life or lifestyle makeover involves intentionally taking actionable steps to reinvent and change your mindset, goals, habits, physical and emotional well-being, daily systems, and even relationships with others.
Having a lifestyle makeover means you realize you need a change and are ready to take intentional little steps to improve yourself.
When Do I Really Need a Life Makeover?
You need a life makeover if you are;
stuck and want to change your life
ready to take charge of your new year's resolutions
tired of being stuck in a rut and want to transform your life
unmotivated and feel depressed, think about where and how you are in life and want to turn your life around
feeling a push to improve, but need help figuring out where to start.
Therefore, without further ado;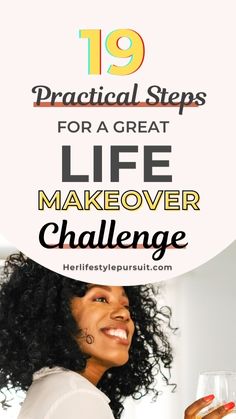 Life Makeover Challenge: 19 Powerful Steps to Have a Lifestyle Makeover and Reinvent Yourself;
Ready to take on a life makeover challenge and become a better version of yourself? Here are 19 simple yet actionable life makeover checklists. So you can reinvent yourself.
1 | Evaluate Your Current Lifestyle
Before you think about changing something, you must first identify why and what needs changing.
And the same goes for us when trying to have a lifestyle makeover.
Evaluating your current lifestyle may seem daunting, and I tell you, it is sometimes the most challenging part.
Because that's where you need to come clean to yourself about your habits, relationship, decisions in the past, lifestyle, and generally everything about you. If you want to achieve a total life makeover.
So, you need to evaluate your life;
where you are
what you hope to change
who do you wish to become
where do you desire to be
And most importantly, the benefits of making these changes to your life.
Additionally, to evaluate your life when having a life makeover, you need to write down every bit of it in a notebook, digital space, but preferably a Journal.
You can evaluate your life quickly using this method;
Break your life down into categories such as Health, Finance, well-being and self-care, physical appearance, spiritual well-being, fitness, etc
Rate yourself for each category, write down things you hope to change, what you're doing well right now, and what you can do better, and set new goals you can do daily to achieve the things you want to change.
Remember, it can be simple. Make your goals simple, actionable, and trackable.
2 | Get into Journaling and Record Every Step of your Lifestyle Makeover Journey
One surefire way to understand precisely what you want in your life makeover journey is journaling.
I'm a huge advocate for journaling because putting my thoughts in a paper helps me gain clarity.
It helps me come clean to myself, unfiltered, and I answer my inner yearnings at the end.
And the same way, journaling can work for you if you open up honestly to yourself.
Journaling can help you discover grey areas in your life, clarity on things you're unsure of, and patterns your life is taking, and above all, it can help you document your lifestyle makeover journey.
Although journaling may sound scary if you're new to it but believe me, it's as simple as writing down your wishes.
And, with journaling, you must be intentional about what you have written. If you need to know where to start, start with these 120 Intentional journaling prompts for self-improvement, self-discovery, growth, and self-love.
Using journaling prompts is a good start, and you don't need to spend hours with your journal.
In fact, 5-15 minutes of intentional journaling daily is enough to help you gain clarity and audit your life.
And if you need more clarification on using a journal to audit your life, this journal will help you uncover your inner self.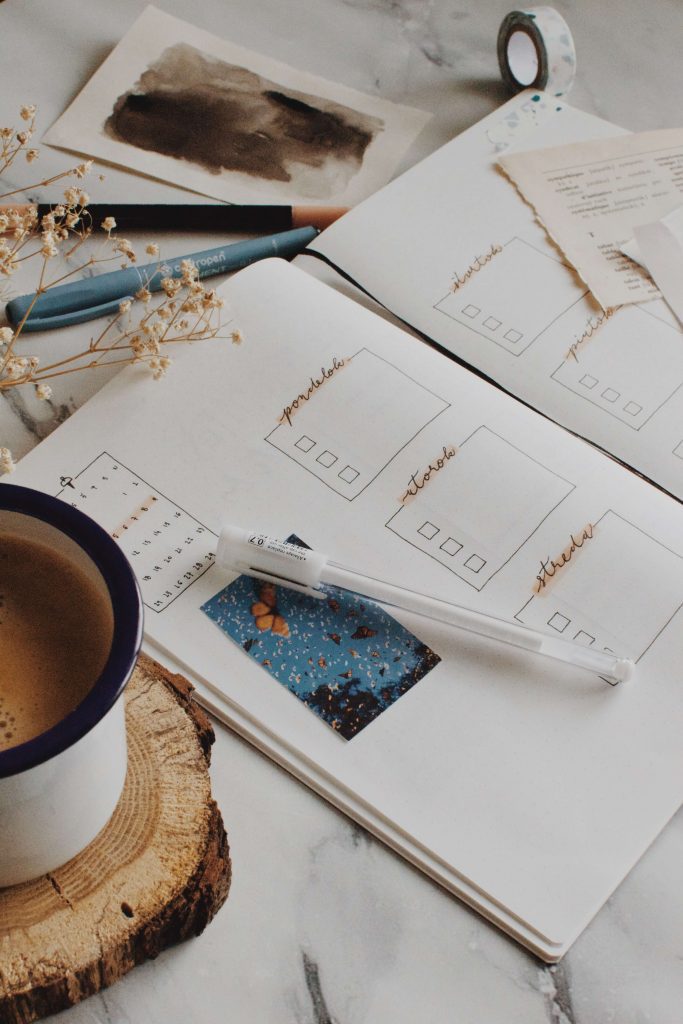 3 | Identify and Change Bad Habits
Repeatedly, I have stated that if you're serious about having a lifestyle makeover, you need to be truthful and honest with yourself.
After evaluating your current lifestyle and getting deep into journaling to uncover your authentic self, you'll have a list of bad habits that may be holding you back. You need to let go of them to have a life makeover.
It doesn't have to be complex; a tiny change in habit can transform your life.
For example, I was a night owl and could work all night.
But the downside is that it made me experience significant insomnia, as I could no longer nap during the day or easily fall asleep at night.
And after speaking to a doctor and journaling for clarity, I decided to switch my routine from night to morning, and it's been blissful.
Additionally, I had a habit of leaving my room scattered while working. That means the room will be a mess until the evening when I wrap up my work for the day.
After evaluating my lifestyle in early March, I started making my bed immediately after waking up.
Also started tidying my apartment, kitchen, and clothes the night before, and this simple change in habit changed my productivity while working.
Your tiny habit change may be;
showing gratitude more.
Dealing with low self-esteem.
Stop speaking negatively about yourself.
Judging yourself and others.
And being unintentional about your life and goals, etc.
Whatever those habits are. Make a list of the bad habits that need to change and a list of possible new habits to replace them.
4 | Self Your Self-Improvement Goals
The idea of taking a lifestyle makeover challenge is to improve yourself, either emotionally, financially, physically, or mentally.
Whatever your reason for wanting a lifestyle makeover. It all boils down to self-improvement.
And to measure your life makeover journey, you need to set new self-improvement goals and track them. It doesn't have to be complex, just one tiny goal at a time.
For example, I want to grow spiritually, and I started reading a chapter of the Bible daily. No matter how difficult it seems to comprehend, it's become much easier over time.
Maybe yours is to get fit, do away with caffeine, take a walk around daily, call your loved ones, or journal for at least 5 minutes daily. These tiny goals all add up to make you better as a person.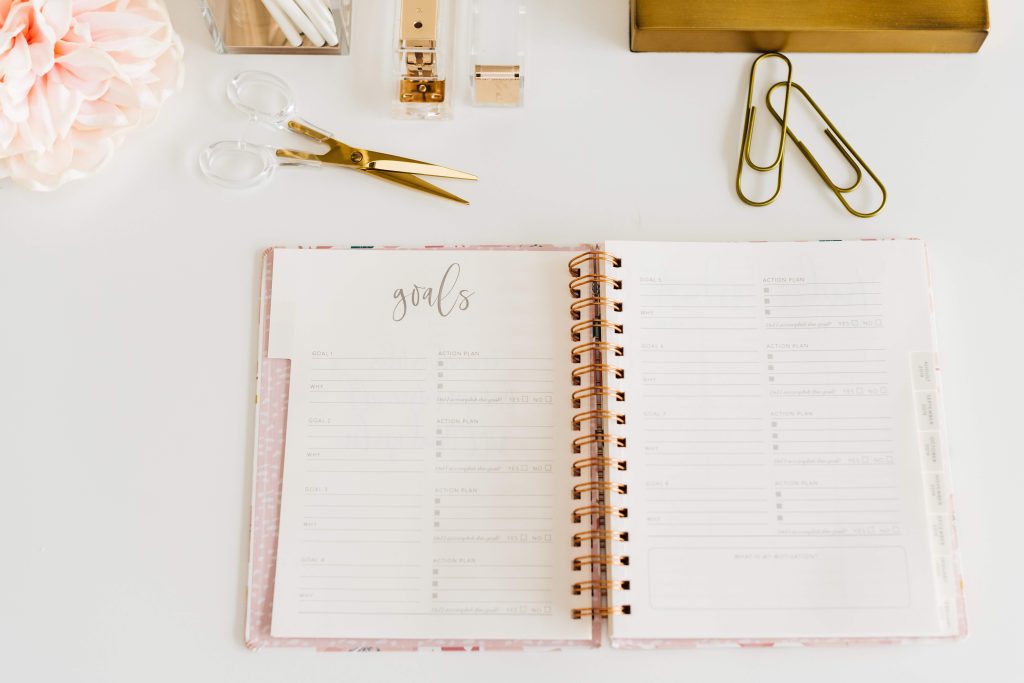 5 | Picture your Dream Lifestyle and Create a Vision Board
Visualizing your dream lifestyle and the new life you want is essential in your lifestyle makeover journey, and this lifestyle makeover checklist is incomplete without a vision board.
A vision board is a tool that can help you manifest your goals and dream life. It's for more than the beginning of the year.
Vision boards are effective because they are a visual reminder of your intentions and shape your thoughts and actions.
Although dreaming of a new and better life is motivating, sticking to your life makeover plan, and creating a change is daunting, and that's the truth.
Therefore, a vision board is an accountability tool that constantly reminds you how you started, where you are, and where you're going.
So, create a vision board with images of everything you desire as you reinvent yourself using this life makeover challenge. And you can always come back to view your journey.
6 | Become Intentional About You
While this may seem like regular talk. But you need to be intentional about you to achieve a life makeover. Because having a lifestyle makeover requires discipline.
When disciplined, you can become intentional about achieving a life makeover challenge.
To become intentional about yourself;
See your lifestyle makeover challenge as an exercise you need to accomplish to get all the good benefits that lie ahead.
Constantly remind yourself why you need to achieve your set goals
Read those self-improvement goals aloud and keep your vision board where you'll see it daily
7 | Get Rid of Bad, Unhealthy, and Toxic Relationships
One way to fall out of your lifestyle makeover journey is to keep unhealthy connections and relationships with things or people that are contrary to the new life you hope to achieve.
For example: when I discovered that I had inferiority complex issues, journaling my thoughts daily and affirming all beautiful things about me helped me see myself better for "who I truly am."
But do you know what helped me take my self-confidence from 30% to 1000%?
Shutting out people and things that didn't help me reflect the kind of life I wanted, "a confident, powerful, and self-aware woman."
And until I became self-confident enough, I shut out people who constantly compared me with others and doing this changed my life for good.
Maybe yours is gambling, shopping ceaselessly immediately after receiving money, buying all things you don't need, self-hate, etc. You need to avoid things and people that won't help your journey.
8 | Start Planning your Life and Get a lifestyle Makeover
You can have a life makeover in 15 days, 7- days, 30 days to even a year or two. It all depends on what you want to change.
Therefore you need to plan accordingly and be patient with yourself.
For example: if you have just 1-5 things you want to change about yourself. Like becoming more organized as a person or getting into journaling and practicing skin care.
Building simple habits like these may require the same time to see results, such as quitting gambling, becoming debt-free, losing weight, building self-confidence, etc.
So, in a planner, list all new things you want in your life, break them into simple, SMART goals, plan on achieving them, and start taking action.
For example: Do you want to build self-confidence? Spend 5 minutes daily journaling about things you like about yourself and how amazing you are.
Another example: are you deep in debt and want to pay it off? Create an action plan to create more income streams, save and pay your debts, etc.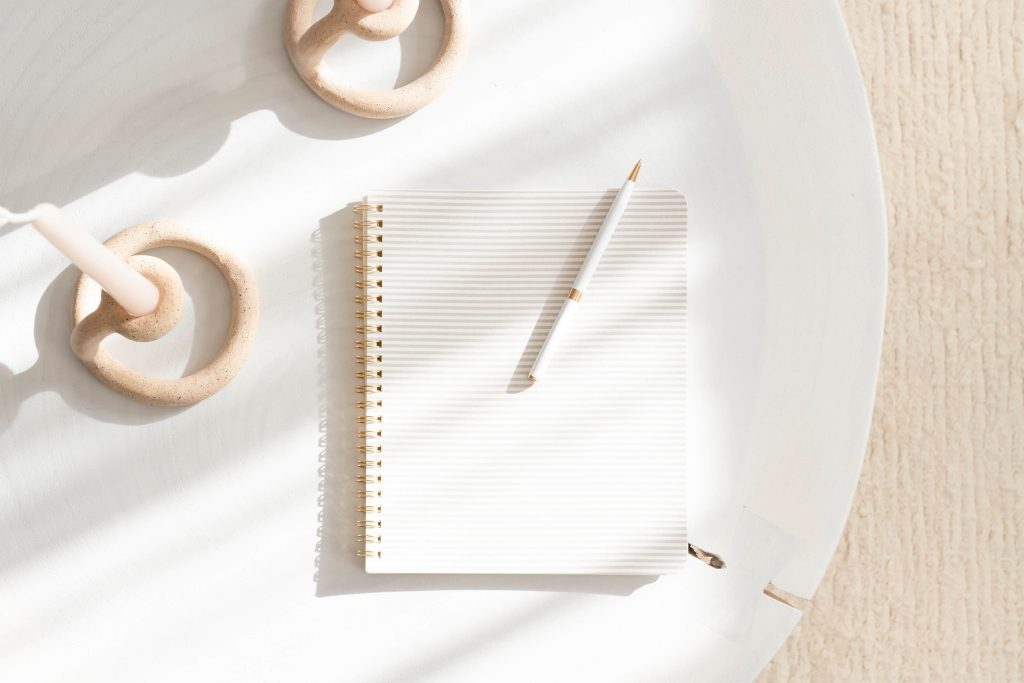 9 | Create a Healthy Living Plan
What's a lifestyle makeover without a healthy living plan?
Often, the desire for a life makeover sterns from our need for a healthy lifestyle.
For example, you may decide to lose weight, gain weight, exercise for fitness' sake, cut down on caffeine, etc.
So what do you need to work on to live better? Do you need to cut down on caffeine, eat more vegetables, drink more water, cut down on processed foods, stop smoking, and protect your mental space?
When I desired a lifestyle makeover, I knew outrightly what I was doing wrong that needed changing. Even before I started reading books on how to get a better and healthier lifestyle.
Things such as; spending so much time at my desk working without stretching, consuming carbonated drinks daily, taking caffeine even when I struggle with sleeping, not maintaining a sleep schedule, going to bed late, not exercising, and not drinking enough water.
Now, I keep a bottle of water beside me daily, even when I go to bed, which helps me consume a lot of water daily.
So, search yourself and list those habits that you know need a change and start working on them; Some habits you can fix immediately.
Sleeping routine: set a time to go to bed, and start decompressing two hours before that time.
For e.g., if you want to sleep by 9 pm; start organizing yourself to go to bed by 7 pm and before 8.30 be in bed.
And remember to keep your gadgets away 30 minutes before bedtime.
Exercise for at least 30 minutes daily and increase the time as you become more comfortable.
Take frequent walks daily, primarily if you work from home.
Reduce caffeine and carbonated drinks intake.
Eat more vegetables, and get more sleep (at least 8 hours).
And most importantly, drink more water. This motivational water bottle will help you consume more water.
10 | Revamp your Style and Organize your Closet
Remember, taking this life makeover challenge requires you to recognize what needs to change.
So, does your wardrobe and style need revamping? If yes, you should;
Declutter your closet and donate or resell clothing that you no longer need but are in good condition
Have a wardrobe makeover to fit the new lifestyle you want to live.
I used to feel shy wearing a sleeveless dress. When I worked on my self-confidence, I added two sleeveless to my wardrobe, which felt so good.
So, search for yourself deeper, and go for what you want. Remember to avoid going on a purchasing spree and eventually spend money on what you don't need.
11 | Take Courses that Will Help your Journey
The truth is, it's so easy to fall out of your new routine because it's yet to stick as a habit.
But you're not alone if you experience or feel that way. For example, I fell out of my fitness routine twice this year but picked it back after a week or two.
One way to get started and have a lifestyle makeover, especially if you need help figuring out where to start, is to find and take online courses, especially those with support groups.
An online course about what you want to change will help you start on the right foot and if it comes with a support group or some kind of membership.
Then it's perfect as you'll have others in the same situation as they share their success stories and trials with you.
You can get online courses on fitness, nutrition, career, health, productivity, making money, and even craft. It's just down to what you want to change.
12 | Create a Healthy Self Care Routine
For the longest time, I knew I needed to take seriously my self-care routine, especially skincare, but I procrastinated until my skin started screaming for attention.
However, you don't have to let this happen to you. If getting a healthy self-care routine is one of the things you want to change in this life makeover challenge. Then get into it.
Self-care doesn't have to be expensive. It can be as cheap as;
reading a book with your favorite scented candle burning
Or spending 5-minute a day journaling and affirming good things about yourself
meditating and spending at least 30 minutes daily off social media
Maybe self-care is going on an inexpensive solo date or spending a few minutes of your day practicing skin care.
While all these seem simple, it can be challenging to commit to them.
And, to have a lifestyle makeover, you need to be intentional about what you want and who you want to become and take steps to get there. Every tiny step you take makes a whole difference.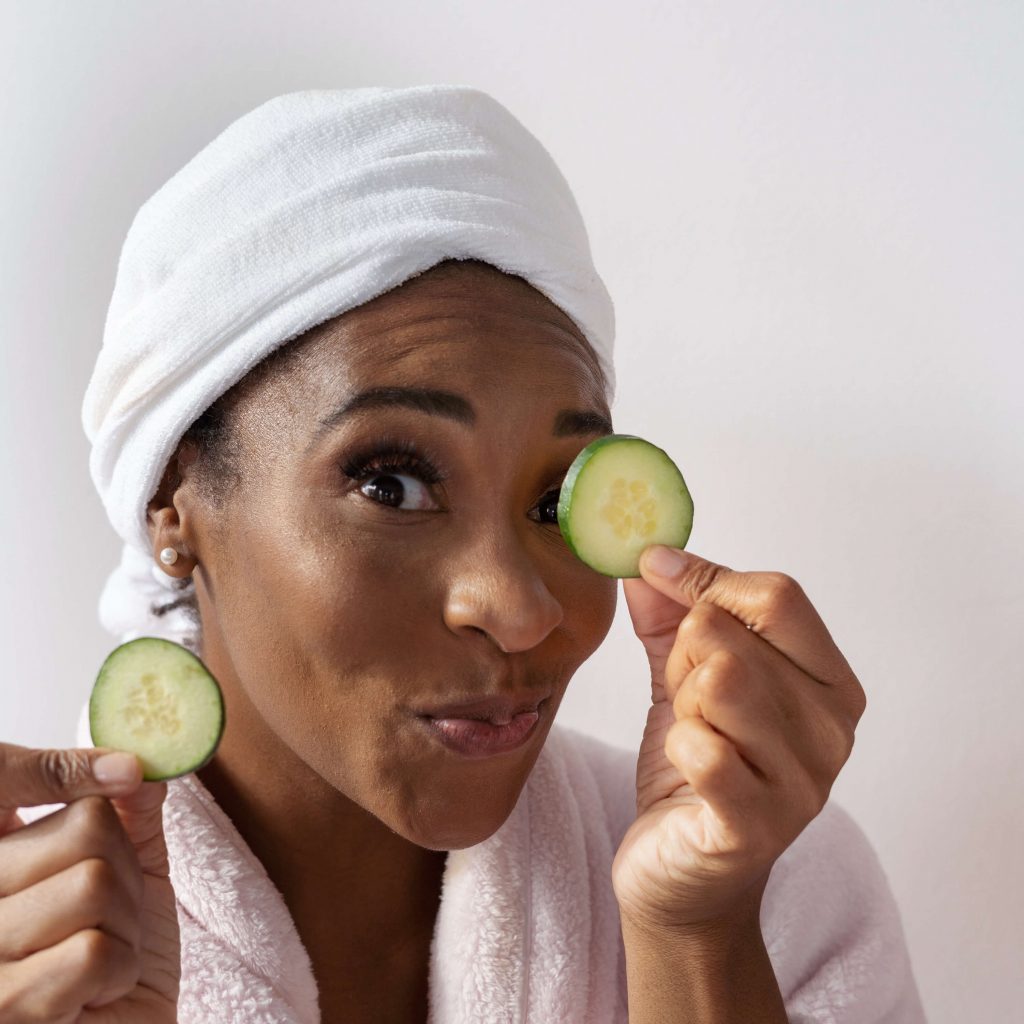 13 | Build New Healthy Relationships and Connections
Healthy relationships and connections are sometimes underrated when making a fresh start or having a lifestyle makeover.
Associating with those who are where you hope to be or are on a similar journey as you are a huge motivating factor and can help you accomplish your goals faster.
For example, I have this friend Houna, one of the sweetest girls I know. We became friends after I helped her in a Facebook group, and this relationship turned out to be one of the healthiest and most valuable friendships in our blogging journey.
We were both on a blogging journey and wanted to make more money and design a new life, and we have a similar drive; we support each other daily.
For you, it may be battling an addiction, trying to be debt free, or making a change in your job or career, and you need someone to hold you accountable and motivate you.
Remember, one of the things to consider in this life makeover challenge is getting rid of bad relationships.
But as you get rid of bad relationships and unhealthy connections, you need to make healthy connections and support systems to help you accomplish your dreams faster.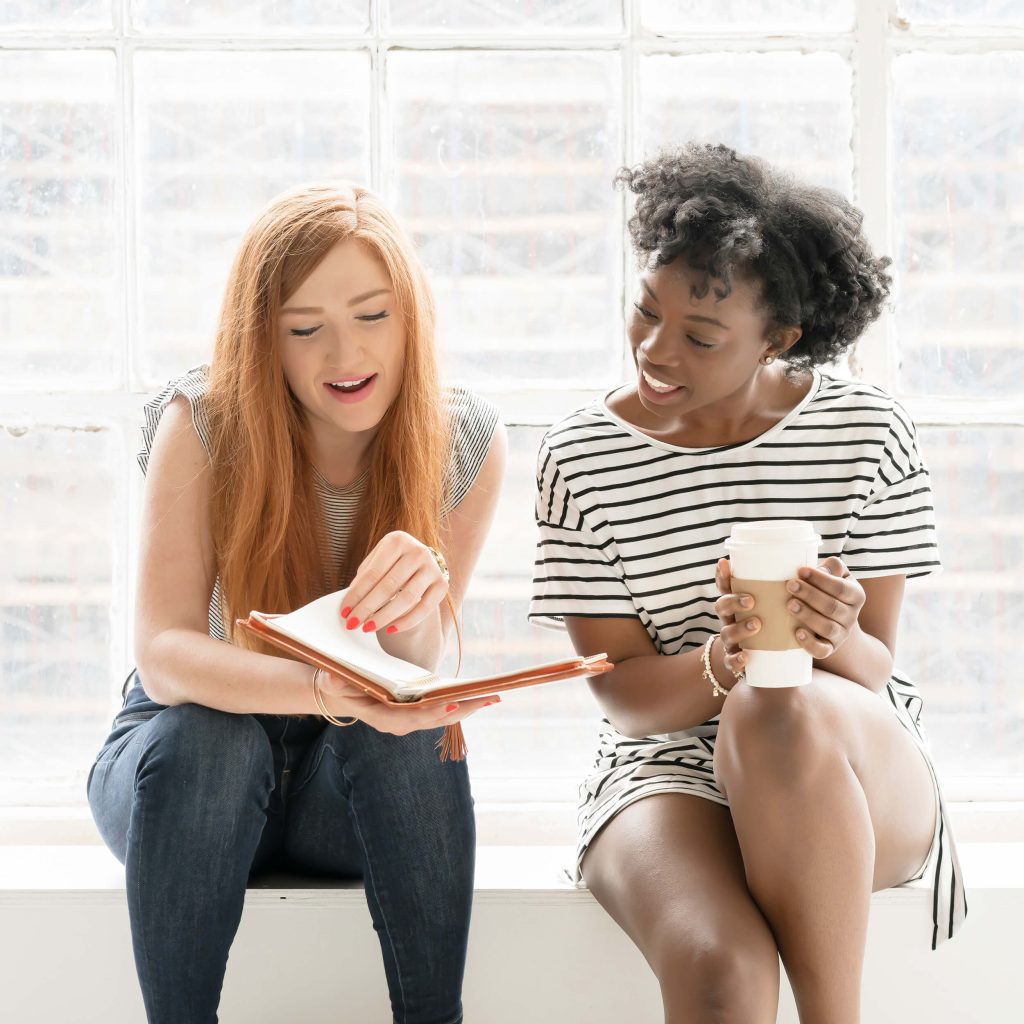 14 | Learn New Things
One of my favorite daily activities is reading other blogs for at least 10-20 minutes daily.
During your life makeover journey, you need to learn new things that take you closer to your dream life.
It could be a new hobby, a skill, a change in attitude, or a slight adjustment in how you do things.
While learning how to become productive and efficient throughout the day.
I learned that working late at night or scrolling through different social media pages was a disservice to me.
A simple change in my sleeping habits and night routine made a huge difference in my health, work life, and the time I wake up daily.
Additionally, life changes often cause a ripple effect, no matter how small it may seem.
15 | Read Personal Development Books
The things we hear, see, and read; shape and affect who we become; this is why you have to be intentional about what you hear, hear and read.
One way to feel motivated and have a drastic lifestyle makeover is the book you read.
While having a makeover in life, focus on non-fiction books that can help you become who you want to be faster.
If you want to be productive, avoid procrastination, and get more done quickly, a book like Eat frog will help you.
And to become open to learning more about yourself without allowing society to dictate when to live, how to live, and uncovering your inner self; then Elizabeth Gilbert's Eat, Pray, Love is a game changer.
This book helped me decide to become my most authentic self.
Are you a people pleaser? If you're always thinking about what everyone wants you to do, then "The subtle art of not giving a Fuck" is for you.
16 | Listen to Podcasts
Podcasts these days are so powerful, and you should know that whatever you're trying to change or achieve, someone must have gone through similar experiences, and you can draw inspiration from them.
For instance, having multiple niche sites that bring me passive income is one of my goals. And the niche pursuit podcast is one of my favorites.
Other podcasts I listen to are; the empowered business podcast, the Goal digger podcast, Priscilla Shirer's podcast, etc.
I'll teach you to be rich" podcast is a good start if you want to learn about money or money habits.
Additionally, there are tons of podcasts out there on different life-changing topics.
So search for the one that suits your journey and one you connect with and listen to daily.
17 | Get Serious About organizing Your Life
A lifestyle makeover without organizing your life? Well, a new lifestyle needs organizing.
To easily organize your life, break down your life into categories such as;
Self-care and health
Home and personal space
Food and nutrition
Physical looks and daily routine
Worklife and digital well-being
After breaking your life into these categories, carefully select, remove, add and organize each item to fit your new dream lifestyle.
For example, if you're battling self-confidence issues, unfollow, mute, or delete social media accounts that make you constantly judge yourself.
When I wanted a lifestyle makeover, I realized that cleaning my work desk and organizing my apartment in the evening after work for at least 10 minutes a day helps me be more productive.
You may find it challenging to organize and finish your daily to-do list. Then try writing down your to-do list a day before and see the difference it can make in your life.
18 | Practice Weekly Reflection on Your Goals
Ever heard of this saying "out of sight is out of mind"? Well, it's true.
To achieve your life makeover goal, you need to constantly see and reflect on your goals and why having this life makeover is essential for you.
So, set a few minutes at least once a week, reflect, evaluate, and read your lifestyle makeover goals aloud to yourself.
19 | Take Actions
What's the essence of writing down a life makeover checklist if you're not going to take action?
It's so easy to give up after a few days, but it's beneficial when you get to the finish line.
So today, be intentional about your lifestyle makeover. Read books, take courses, and build relationships to help you achieve your goals faster.
Useful Lifestyle Makeover Frequently Asked Questions
How can I change my life every day?
Firstly, to change your life and have a life makeover, you need to be intentional about why you want to change your life.
Secondly, list everything you want to change and habits you'd like to implement.
Break down this list into simple, actionable plans and tasks you can do every day or every few days a week.
For example: do you want to become more organized?
Start by making your bed immediately after you wake up, write your to-do list a day before, and organize your laundry after washing.
How Can I change my life in 15 days?
Making a change in life takes work, especially when trying to change habits you've been used to for a long time.
It takes time, and this is where planning and tracking come in.
Therefore, to change your life in 15 days, make a life makeover checklist and break your list into actionable bits.
If you're trying to change your life in 15 days, start with 4-10 things you'd like to change or habits you'd like to form and work on them daily for 15 days before moving on to the next.
Remember, you want to avoid overwhelming yourself and eventually dropping out of the life makeover challenge.
Can I change my life in 6 months?
Affirmatively! 6-months is enough time to have a total lifestyle makeover if you're disciplined and intentional about every action you take.
If you need help figuring out where to start in your life makeover plan, start with this 19-life makeover checklist and take actionable steps daily.
Finally, on How to Have a Total Lifestyle Makeover and Change your life
A lifestyle makeover is a huge step in your self-improvement journey.
It takes an excellent level of self-consciousness to decide that you want to have a life makeover and change your life for good.
HoweverHowever, no matter what you decide to change about yourself, you need to be patient, intentional, disciplined, and kind to yourself.
Importantly, avoid procrastination, take steps every day, no matter how small or insignificant, and continuously track your growth and habits.
Are you on a life makeover journey? What do you want to change and why?