Looking for positive Christmas affirmations to bring some calmness into your life and ease the Christmas holiday blues? Use these Holiday affirmations for Christmas to Brighten up and enjoy the season.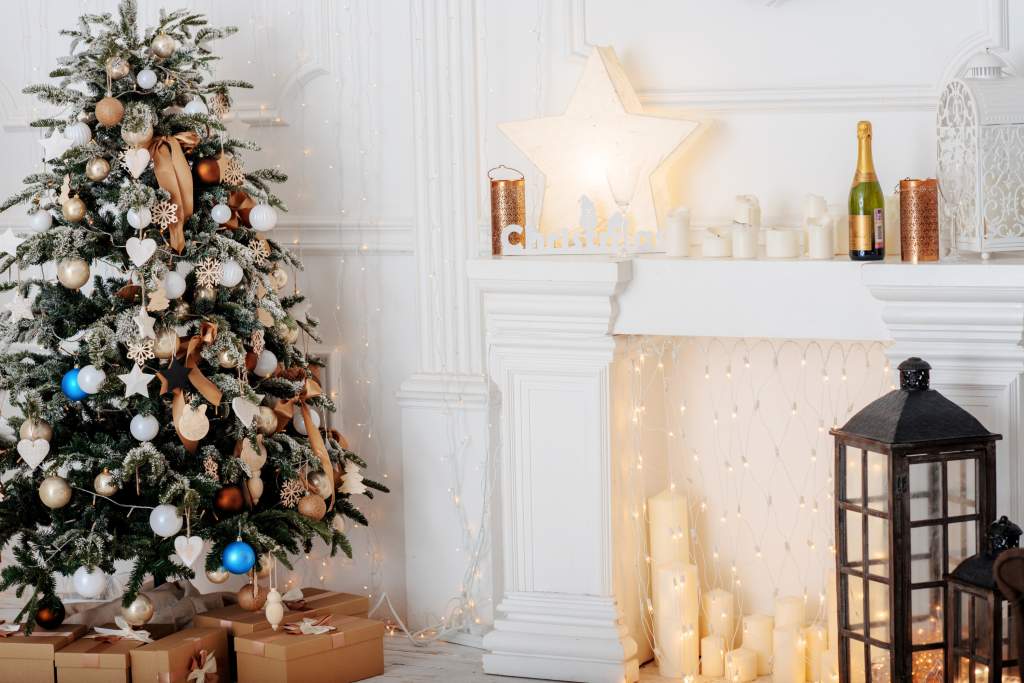 While Christmas is that time of the year filled with lots of love, laughter, family time, and the gathering of our loved ones, it can also be overwhelming and lonely.
Sometimes you may dread it because you have to deal with other members of your family who may be intrusive (side eyes to those aunts who never stop asking many questions, lol).
Other times, you may compare your life with others, especially if you've had a tough year.
Before you know it, you're down the rabbit hole of insecurity and "feeling" enough.
Or you feel overwhelmed and stressed with all the preparations, cooking, and dealing with others. You're not alone.
Not many people handle the holiday rush, emotions, and anxiety well.
This is why you need some time for self-care and remind yourself that "you're enough, ad the holiday season can be enjoyable."
Whether you need positive Christmas affirmations to show yourself, love, take charge of your thoughts, and bring calmness into your life.
Or you're obsessed with Christmas and need Holiday affirmations for Christmas to throw more fun into your mood for the season.
These 100+ Positive Christmas affirmations are perfect for shifting your mood and helping you shine through the Holidays.
But what are Christmas affirmations? Why is it different from any other affirmation?
This post may contain affiliate links, which means I'll receive a commission if you purchase through my link, at no extra cost to you. Please read the full disclosure here
What are Christmas Affirmations?
Christmas affirmations are positive statements or thoughts you can repeat to yourself during the holiday season to eliminate holiday blues, boost your mood, feel more festive, and embrace the holiday spirit.
Affirmations for Christmas are motivational talks you say to yourself that help you focus on the good things and experiences and help you embrace the joy and warmth of the Holiday season.
Why Use Christmas Affirmations?
Like any other affirmations, Christmas affirmations can help you shift your mindset from negative to positive, reduce anxiety, boost your confidence, and help you focus on what's important.
Christmas affirmations are perfect mood boosters, and when you're in the right mood, you'll find pleasure in little things and appreciate the love and people you have around you.
For instance: although I love spending time with my family, the festive season can be overwhelming, especially when surrounded by extended family.
By journaling and saying affirmations daily, I relax and enjoy the fun and thrill of the festive season.
Now you know why you need Christmas affirmations. Without further ado, here is a list of 100+ Positive Christmas affirmations to bring fun into your life this year.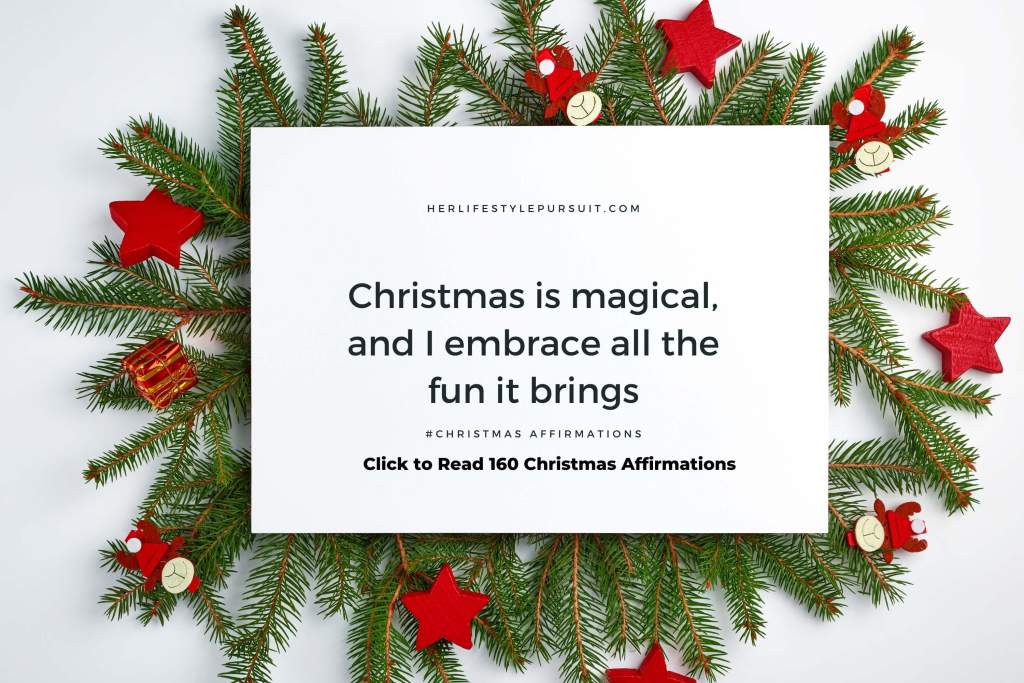 160+ Positive Christmas Affirmations for a Happy Holiday
Here's a list of 100+ Christmas affirmations to calm and ease the holiday blues, feel better about yourself, practice self-care, enjoy family time, and embrace the season whether you're alone or bonding with your family. Even if you need to ease anxiety, these Holiday affirmations are perfect for easing Holiday blues.
Positive Christmas Affirmations
I embrace the magic of the Christmas season with an open heart.
I release all worries and stress and allow myself to enjoy the love and buzz of the seasons.
I let go of my insecurities and see the best in myself.
I am enough
I am spreading holiday cheer wherever I go this holiday.
I deserve all the love and warmth I enjoy.
I am stronger than my worries, and I choose to experience a peaceful holiday experience
The love and support of my family and friends surround me.
I open myself to Christmas's beauty and gifts
Imperfections make this Christmas special.
I find joy in the little things around me.
I release all my fears and lead with love.
My inner joy outshines my expectation from others.
I have given the year my best shot; now it's time to rest.
I enjoy Christmas in my own way.
I choose to find joy amid challenges.
It's okay to say no to situations that stress me.
Christmas is magical, and I embrace all the fun it brings.
I can always take a step back to recharge.
I am a Magnet of positive only.
I release my expectations of others.
I attract good experiences and fun.
I invite warmth into my heart this Christmas.
No one has the power to trigger me.
I am in charge of my emotions and reactions.
I am thankful for the love I feel.
I radiate joy this holiday.
Rest and fun with loved ones are good for me.
I have the power to heal from past mistakes.
I am aligned with my highest self and purpose
I am grateful to live an abundant life.
Merry Christmas Affirmations
I cherish the moments spent with loved ones this Christmas.
This holiday will be filled with joy no matter what I do.
I deserve all the happiness this Christmas brings.
Enjoying a merry Christmas is one of the things I love about life.
There's always something to be thankful for. Therefore I find joy in the little things around me.
I trust my intuition that this season brings me joy.
I'm in one of my happiest moments.
I love and cherish the love and unity that surrounds me.
My happiness is above my to-do list.
I love the holidays
My heart is light, and my spirit is merry.
I find happiness in giving and receiving love.
I choose to nurture only healthy relationships this holiday.
I open my heart to deepening my bonds with others.
I radiate love and attract love in return.
I am responsible for my happiness.
My happiness this Christmas is tied to no one.
I am a gift to myself, deserving of self-care and love.
Our family bond grows stronger with each passing Christmas
Spending time with my loved ones during Christmas is a treasure I hold dear.
I am open to new beginnings this season.
I am embracing change and welcoming growth this holiday.
Each day is a gift, and I embrace its happiness.
My heart is open to the magic of this festive season.
I'll laugh deeply this season.
I'm boldly stepping out of my comfort zone.
I release all limiting beliefs that no longer serve me.
I refuse guilt and self-judgment to ruin my Christmas
. I have no control over others, and I'm not responsible for the actions of others.
I choose to celebrate this season in my way.
Funny Christmas Affirmations
I'm so merry. Even the elves are jealous!
It's the season to be cheesy
Calories don't count on Christmas, says my cookie box.
Ugly sweaters and Cheesy Hallmark movies make a fun Christmas.
I'm giving 110% this Christmas, except for waking up early.
I promise to spread holiday laughter like glitters.
My Holiday motto: Eat, drink, merry, and laugh.
I'm spreading more joy than glitter on a handmade ornament.
My holiday spirit is bright enough to power the North Pole!
Never trust me with your Christmas cookies. lol
Every day is my Laughter cardio session, and I'm training hard this holiday season.
I'm dreaming of a white Christmas but without the shoveling part.
Christmas Affirmations for Releasing Money Stress
Christmas is about gifting, making memories, holiday parties, and outings. However, this can lead to constant debit alerts and financial anxiety whether you see a budget or not.
Although, I recommend, you set a budget and plan your Christmas spending a month ahead (i.e., include this in your goals for November). These are Holiday affirmations for easing financial anxiety.
I choose to focus on the joy and love of the season and release my money worries.
Abundance surrounds me.
I am replacing stress with peace this festive time.
I am grateful for the financial blessings that flow into my life now.
I am a magnet for financial favors.
Gifting my loved ones is good, and I release my anxiety.
I trust my intuition to make healthy spending.
I trust my abilities to overcome money challenges and thrive.
I am open to receiving financial miracles this holiday.
Abundance flows to me effortlessly, making this season magical.
I let go of money stress and welcome a season of financial ease.
I am letting go of my fears
I release old patterns that no longer serve my financial growth.
I am beginning to feel at ease and enjoying my money.
I am in control of my finances and make positive choices.
This holiday season, I am blessed with financial peace.
I let go of scarcity and embrace the abundance of the holidays.
I am aligned with the Universe for blessings.
Good things happen to me always.
I attract gifts, love, and calmness this season.
Gratitude Affirmations for Christmas
Chrismas is the season of gratitude. And you need boos to find things to feel grateful for. Thee are Gratitude Christmas Affirmations to boost your holiday spirit.
I am thankful for the gift of life.
I cherish and see the beautiful things I have in life.
I am grateful for the cozy comforts of winter.
I love the happiness this season brings.
I open myself up for happiness.
Christmas brings warmth, and I am thankful for it.
I'm blessed with the gift of gratitude.
I attract new happy beginnings
Gratitude fills my heart like a gentle snowfall.
I acknowledge my big and small wins.
I am feeling grateful for all I have.
I am thankful for the warm hugs.
Gratitude feels my heart daily.
I am open to making beautiful Holiday memories.
I'm grateful for the magic of Christmas love.
I'm blessed with the company of loved ones.
I am grateful for the love that warms my soul.
I did well this year and am grateful for my progress.
I appreciate every person in my life for their love and affection.
I choose happiness over fear and anxiety.
I can find little things around me that bring me joy.
Ti's my season of laughter and peace.
I attract funny moments today.
My happiness and peace know no bounds.
I'm a magnet of beautiful holiday peace.
Christmas Affirmations of Faith
I reflect on the life of Christ and the season.
I spread kindness and warmth to others this season.
I share the message of Christ's birth with enthusiasm.
Christmas is the birth of new beginnings; I let go of the past.
I am letting go of my worries and trusting God's plan as I celebrate this season.
I rejoice in the birth of our Savior, Jesus Christ.
Every day of this holiday is filled with Faith, love, and gratitude.
I share God's light through my actions.
I give others Wholeheartedly this Christmas.
I share the Good news of Christmas.
I am a vessel of God's love and Grace.
My Faith is renewed this Christmas.
I let go of my anxiety and trust God.
I am beginning to find happiness in things that strengthen my Faith.
I am wholesome and Christlike.
Holiday Affirmations for Christmas
I savor the delights of holiday treats and meals.
I choose to bring comfort and joy to those I care about.
I am a source of positivity during the holiday season.
I focus on what Christmas means to me and not others.
I let go of unhealthy expectations of those
I can enjoy this holiday alone.
I put myself and my needs above everything.
I choose to spend my holiday how I want.
I cherish the moments that truly matter.
My worth isn't defined by appearance but by my spirit.
I give and receive love freely during this season.
I am deserving of happiness and joy during the holidays.
I choose to reach out and connect with others.
I am honoring my needs and nurturing my soul during the holidays.
I am enough, just as I am, in this festive season.
I speak kind words to my body and treat it with respect.
I radiate confidence and a positive body image.
I am a wholesome gift to myself deserving of love and care this season.
I will find moments to rest in this busy season.
I glow with love this season.
Self Love, Food, and Body Image Affirmations for Christmas
You'll find cookies and other sweet treats hanging around during the holidays. And most times, guilt from eating so much begins to creep in. These are positive Christmas affirmations for boy image, food, and self-love.
I find balance in my diet and enjoy treats without judgment.
I open myself to savor each bite, enjoying the flavors and nourishment.
I trust myself to make decisions that align with my well-being.
I am beautiful.
I feel loved and honor my body.
My confidence in my beauty and body reflects every day.
My body size doesn't define me.
I forgive myself for past mistakes and embrace my growth this season.
I am in control of my eating habits and make mindful choices.
I am beautiful and worthy, regardless of societal standards.
More Affirmations and Journaling Tips for you
Final Thought on Positive Affirmations for Christmas.
Christmas holiday season is a good time to love, bond with others, and share the wonderful season.
No matter how tedious it may get for you, speaking positive affirmations can help you find peace.
To make the best out of these affirmations, pick out affirmations that resonate with you and your situation, affirm while looking at yourself in the mirror, and believe it.
I hope you enjoy the season, whether alone or with your family.
Merry Christmas and happy holidays to you and yours!!!