When life gets tough, throw in some funny positive affirmations. Here is a list of 150+ Funny affirmations to kick-start your day in a happy tone.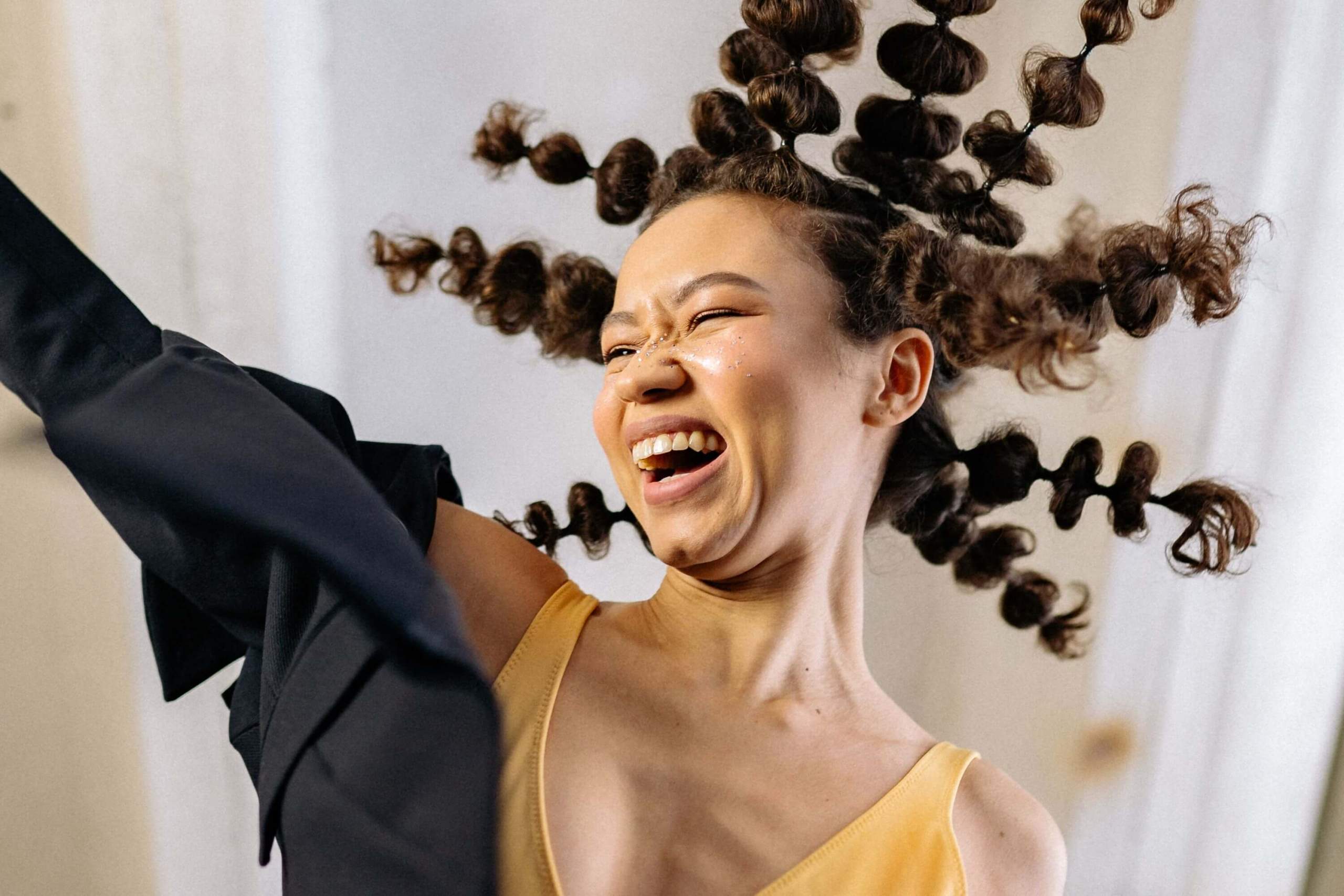 Saying affirmation and speaking positively to ourselves is one surefire way to change our mood and mindset from negative to positive.
And we know life can be pretty serious. You don't have to take the day so seriously, despite how challenging your day may be.
In fact, when the day gets tough and stresses your mental health. It's time to throw in some funny positive affirmations to lighten your heart and brighten your smile.
Affirmations are powerful tools for personal self-improvement, help rewire our thoughts, and empower us to take on the challenges of a new day.
Thus, sprinkling humor into your affirmations is a game-changer and can instantly put a smile on your beautiful face.
Whether you're new to the world of affirmations, where you look at yourself in the mirror and speak beautiful words (AKA Affirmations).
Or you enjoy affirmations but need to throw in some daily funny affirmations to change your mood, boost your self-esteem, and make you smile all day.
I got you! Here's a list of 100+ funny affirmations to empower you for a positive day. Before that, what are funny affirmations?
What are Funny Affirmations
Funny affirmations are fun and light-hearted positive statements that you say to bring humor and laughter into your life. Unlike regular affirmations, with funny positive affirmations, you mix up your affirmations with light jokes and humor.
Speaking funny daily affirmations can boost your mood, motivate you instantly and boost your confidence as they are entertaining and a perfect example of – Be happy; life is so serious, don't be.
Why are Funny Affirmations Important?
When you say positive affirmations, you condition your mind and shift your subconscious to focus on the positive instead of negativity.
Not only does funny affirmation change your mindset, but it brings humor and stress relief. It can help you build your confidence, relate better with others, and motivate you to see challenges as minor jokes (problems) that can be resolved quickly.
Ultimately, when you say daily funny affirmations, you'll become optimistic and resilient and enjoy light-hearted jokes.
Think about your funny affirmations as a self-prescribed therapy where you use humor as a coping mechanism.
I find funny affirmations humorous and use them when I don't feel like saying the regular affirmations.
And saying this type of affirmation helps me take things and life less seriously (I can be a serious person, lol).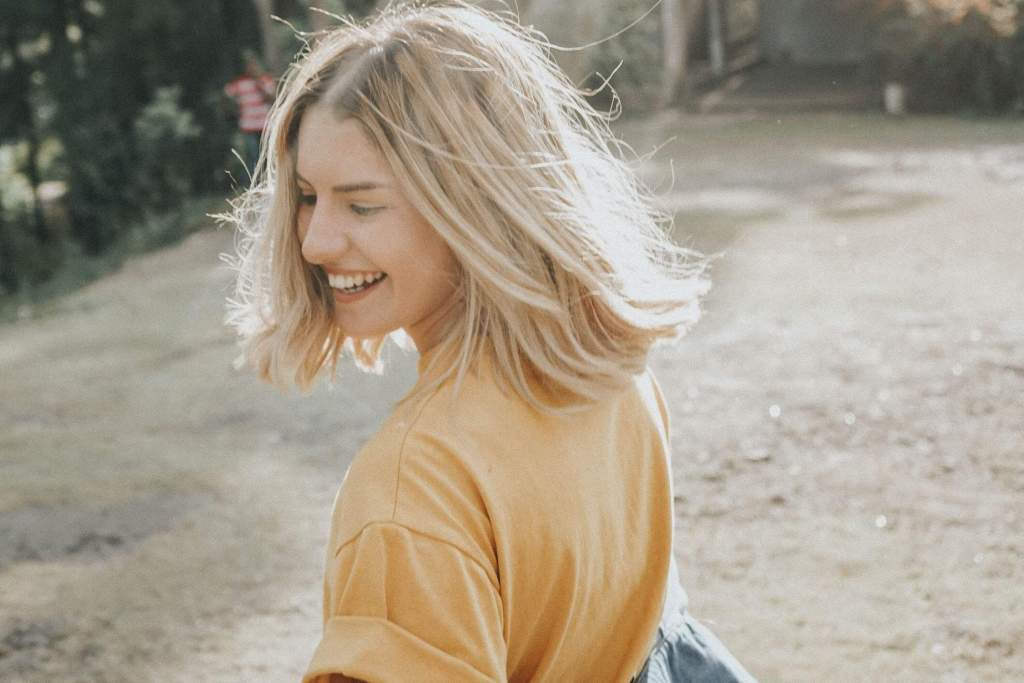 150 Funny Affirmations for Laughter, Sarcasm, Self Esteem
Ready to motivate yourself? Here are 150 funny affirmations for self-esteem, work, sarcasm, wittiness, work, and daily positive affirmations for a beautiful day.
Funny Affirmations – For Self
Today, I am as awesome as a dancing penguin in a tuxedo.
I am a professional at finding humor in the little things.
My laughter is contagious, and I'm spreading a smiling epidemic.
I radiate joy and laughter and brighten the days of those around me.
I am the CEO of my laughter; I chose laughter all day.
I possess an endless supply of peace and jokes to brighten anyone's day.
My sense of humor is like a never-ending fountain of happiness.
Today, I choose to see the world as my personal comedy club, with laughter as the main act.
I am so funny
I choose to spread laughter.
Good and fun things happen around me.
Today, I choose to see life through comical sunglasses.
I'll laugh, hug, smile, and worry less.
I am a magnet for good vibes, awkward giggles, and delicious coffee.
I am a comedy genius, even if my jokes occasionally fall through the glass.
I am a laughter guru, guiding others to find their inner chuckle.
My laughter is infectious.
I choose to laugh at situations that no longer serve me.
Being fun comes easy to me.
I find reasons to laugh and be happy even in strange places.
My charm is a magnet for fun, good vibes, and great opportunities.
I ahve a posituive aura
Life is short, so I'll take it with a side of laughter and an extra shot of espresso, please!
I find life funny and easy, even though it can be a scary roller coaster.
I wear my smile as a weapon for taking on negative energy.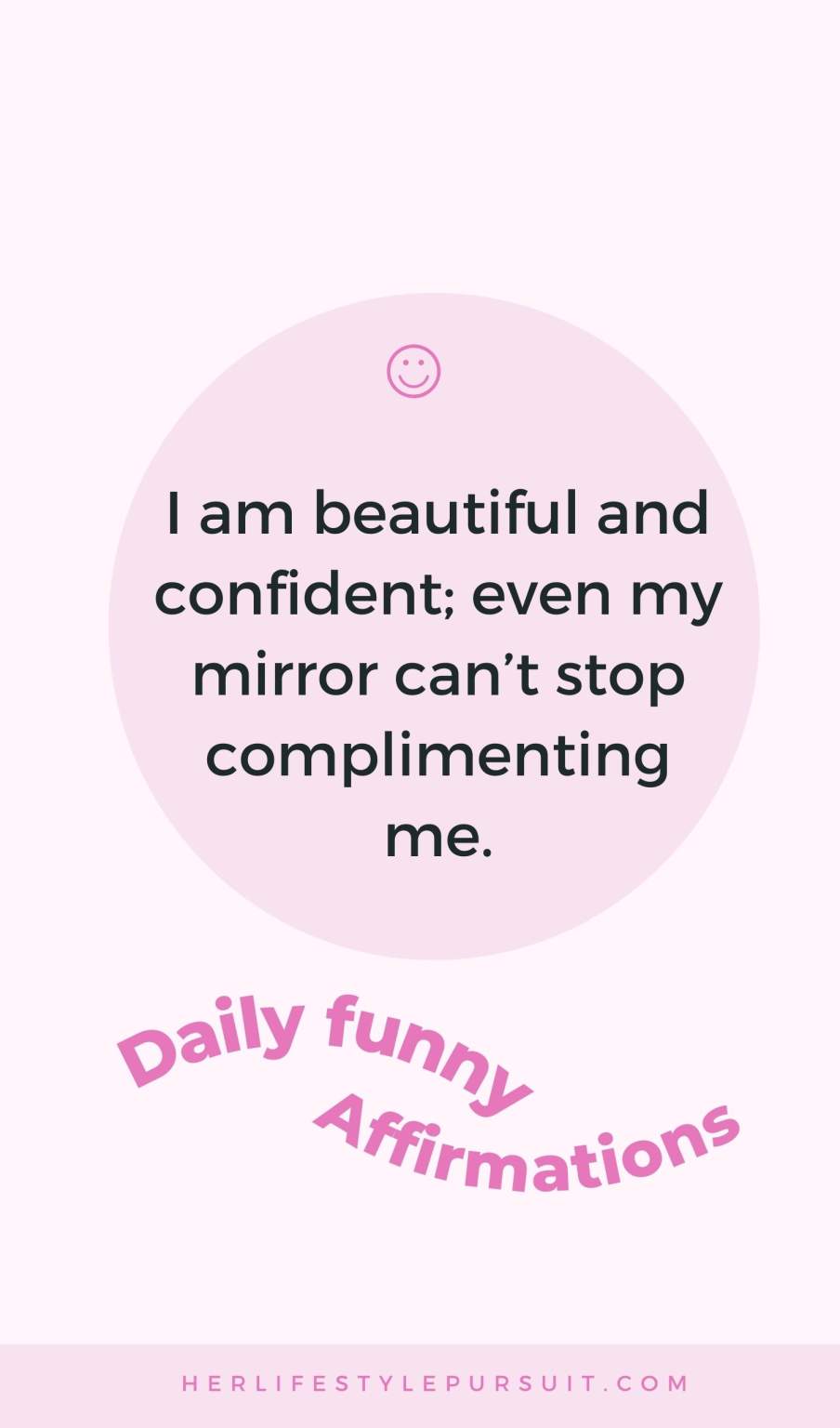 Funny Positive Affirmations
Hey, mirror, mirror on the wall, you're looking at the funniest of them all!
I'm naturally charming.
My daughter is beautiful.
I will always find a way to have fun.
I'm a human sunshine, spreading warmth and laughter wherever I go.
I'm too busy making fun of memories to worry about self-hate.
I conquer the world, one laugh at a time.
I'm not just a beautiful soul; I'm a hilarious soul with a touch of awesomeness and humor.
I choose to smile in difficult situations.
Laughter matches my color code for the week.
People enjoy being around me because I'm a one-person comedy show, no ticket is needed.
I radiate happiness and spread positivity like a glowworm with a Ph.D. in happiness.
Finding humor in a difficult situation helps me win.
I relax all my stress and worries and focus on good laughter.
I see the funny side in every situation
I always know the right things to say.
Hey gorgeous, stunningly surprise today's challenges.
Coffee in hand, laughter on my lips, all motivation I need is here.
I am smart and full of humorous ideas.
The award for best in humor goes to me.
Whatever I do today, I'll do it for the fun of it.
I'm easygoing, and I enjoy being with others.
Jokes and fun are part of life, and I enjoy them.
I laugh at myself, and it makes my life so much easier.
I find other people funny and enjoy simple jokes.
Witty Funny Affirmations
I'm not lazy; I'm just highly efficient at doing everything funny.
Life is too short to wear frown-like boring socks, so I choose to fashionably walk around with laughter.
I may not be a morning person, but I can rock the bedhead look.
Mistakes are just proof that I'm pushing the boundaries of awesomeness, and that's Okay.
I'm not only fluent in wittiness, but I also speak six other dialects of laughter.
My humor is like a good wine—it gets better with age.
I'm not messy; I'm just leaving a trail of laughter and fun wherever I go.
I'm a walking source of endless laughter
I might nap if I get tired, but I am definitely not a quitter.
If life were a joke, I'd live as a punchline everyone remembers.
If laughter could burn calories, I'd be strutting with a six-pack.
I'm a booming punchline business.
I thrive in a happy place, and that's on period!
They say laughter is the best medicine; lucky for you, I am here with an unlimited supply.
My wit sliced through boring days.
I bring sunshine to cloudy days because I have a solar-powered sense of humor.
I'm so fabulous; your favorite celebrities are jealous.
Who cares about being hilarious when I entertain myself with dead jokes?
Good vibes on Vibes; that's where you'll find me.
My jokes are so funny, they come without warning. "Just oops, you're teary."
Funny Affirmations for Self Esteem
Self-hate is so last season.
I radiate positivity in every aspect of my life.
My self-esteem shines brighter than a thousand suns, lighting the world with laughter.
My confidence is so infectious, just like my smile.
I am beautiful and confident; even my mirror can't stop complimenting me.
I am the CEO of my life, and super intentional about myself.
I know my worth, and it runs in many zeros after adding tax. Sadness can't afford me.
I am a ray of sunshine, and I brighten.
I'm so awesome; sadly, not everyone will experience me.
I'm so confident that my self-doubt hired a therapist to deal with its issues.
Be happy; it leaves your challenges confused.
I am too busy being happy to worry about haters.
I am excited to kick off the day with radiating confidence.
I am glowing with self-love, and I radiate good energy.
I am too charming that I cause traffic.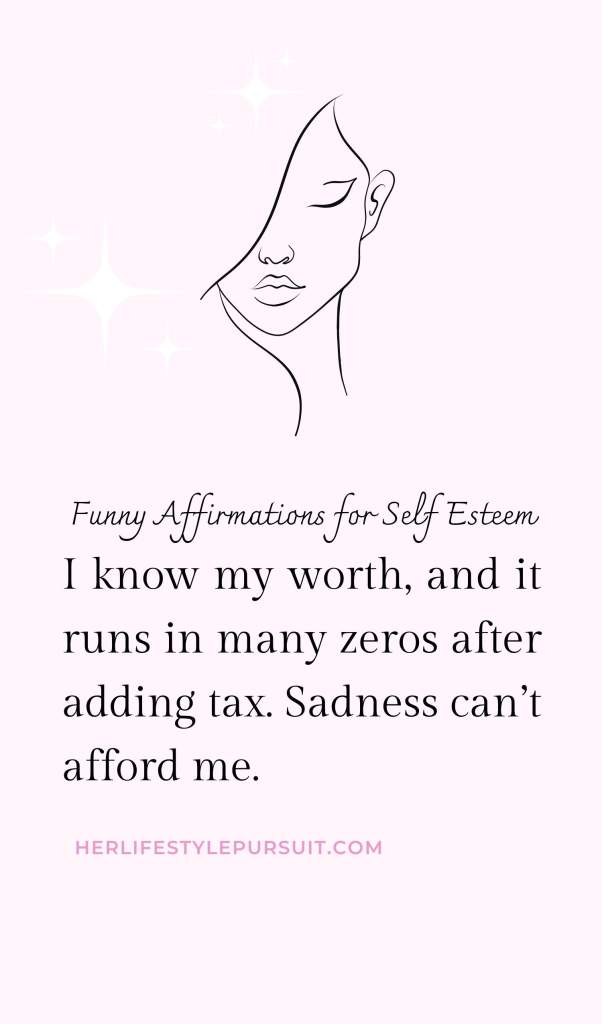 Funny Daily Affirmations
Today is just another day to be happy and spread my awesome.
Wake up, pray, smile, and slay your day.
I am open to receiving the gift of a beautiful day and the laughter it brings.
Today, I'm a charming detective on a mission to find the hidden gems of laughter and self-love.
Good laughter is a form of self-love.
I am intelligent, and my to-do list understands this.
I'm never letting someone waste my time twice today.
Today is Monday, but I'm wearing my smile to show Monday who the boss is.
I embrace the power of laughter to heal and uplift me daily.
I choose to o things that bring me laughter and peace.
My daily thought pattern brings me happiness and peace.
Humor is good; sharing it with others is awesome; I embrace humor.
It feels good to be happy, and I embrace this feeling daily.
Today, I will be kind to myself and not do things that bring me anger.
Today, I let go of negativity and drama unless it's a reality TV show.
Today, I will face my fears head-on with my pretty smile.
I am too busy being awesome to bother with worries.
I am releasing every stress in my life like a piece of cake.
Today, there's room for everyone around me to laugh.
Only positivity and good smiles go with my outfit.
Short Funny Positive Affirmations
I always find joy in the simple pleasures of life.
Always, I choose to see the bright side of every situation.
I approach each day with a sense of humor.
I am grateful for the abundance that flows into my life.
My positive vibes are super contagious.
I'm a walking high-five.
I show up radiantly
I invite laughter to dance in my heart.
I am more than capable of accomplishing good things.
Laughter is good for me.
Only positivity is allowed.
I find beauty around me.
I believe in my abilities.
I choose good laughter today.
I find humor today.
Keep calm; laughter solves it.
I turn negativity into smiles.
Laughter is my therapy.
I am a master at turning frowns upside down.
Coffee smiles; I'm ready to go.
Funny Sarcastic Affirmations
Oh, sure, hater, I'll care about your words as soon as pigs fly!
I'm not bossy; I know exactly what you should do.
Doing it tomorrow is not procrastination; I'm conserving my energy (lo).
I am in a committed relationship with my morning coffee.
I'm allergic to early mornings, responsibility, and other people's drama.
I don't need your validation; I have my opinions.
I know I am not perfect, but at least I'm not you.
I'm not sarcastic; I'm just too fluent in speaking my mind.
If I get a dollar for every time I made someone laugh, I'd be Elon.
I'm more of a never-more person. I don't wake up early or enjoy working in the afternoon.
Sorry if I look interested; I'm not.
Today's live forecast: 100% chance of me not caring.
Please excuse me while I attempt to care. Wait, no, false alarm.
My agenda for today is to be awesome. Tomorrow's agenda: sleep till noon.
It's not that I don't care; it's just that I don't care at all.
Funny Positive Affirmations for Work
Affirm, motivate yourself, and show up bold to work with these positive funny affirmations for work to boost your confidence and spice up your day;
I am the office sunshine, bringing joy to everyone's day at work.
My smile is infectious, and I turn coworkers into friends.
Everyone grumbles about my jokes, but they secretly want to be as funny as me.
My smiles are like a viral video; you can't help but love it.
My positive energy inspires my coworkers.
Coffee in hand, ready to adult.
I don't tolerate stupid people, but when I do, I'm at work.
You can't say I'm bossy; you envy my better ideas.
I don't love work; I just have bills chasing me.
I may not be perfect, but at least I'm not in HR. (lol).
How to Use Funny Affirmation
Affirmations are beautiful, and I love them. They are quick ways to motivate you, fuel you up, and positively impact your day and life.
Funny words of affirmation can help you find humor and appreciate the little things in life.
Although, if you're new to using affirmations to better yourself, you may find funny affirmations a bit uncomfortable as they are slightly different from the regular "I am a lucky girl," or "I am comfortable in my skin" kind of affirmations.
However, they work once you learn how to use them.
Here's a list of tips to use funny affirmations and make them work for you;
personalize your affirmations by using "I am statements."
I identify the area of your life you want to address.
Use present tense instead of past tense.
Believe that affirmations work for you.
You can look at yourself in the mirror while speaking to them.
Visualize, feel, and repeat your affirmations daily.
Keep your affirmations light and playful.
Use wordplay, and puns, personalize them, and be open-minded.
Constantly repeat your affirmations; that's only when it will work.
Take charge of your thoughts and say no to negativity.
Say your affirmations out loud.
If saying it out loud doesn't cut it, journal your thoughts.
More Tips, Affirmations & Prompts for You
Final Thoughts on Funny Words of Affirmations.
Saying your affirmation early in the morning is an excellent way to kick start your day, and repeating them at night helps relieve anxiety and tension and makes you feel at peace with yourself.
You should say at least one funny affirmation a day to kick-start your day. Affirm these words like you mean them, open up your heart for miracles, and consistently improve yourself and the quality of your life.
And these are the best 100+ funny affirmations you can use today to get your groove rolling and have a laughter-filled day.
Do you use funny affirmations as a part of your daily affirmations? What are your top three affirmations to kick-start your day?