When struggling to love yourself or feel confident about yourself, using journal prompts for self love can be a great tool to get to know yourself deeper and evaluate your life and how you love yourself.
Because practicing self-love and excusing yourself from situations that don't promote your physical and mental well-being can be tricky. It takes a level of self-awareness to practice self-love.
Some people love others because they want to be loved back, which is not bad.
While some love because they admire something about the other person they feel is missing in their lives.
Self-love isn't selfish; you must love yourself rightly to love others wholesomely and not from the point of need.
Although, this may differ from the "regular self-love" message of practicing skincare or enjoying time alone." These are simple ways you can love yourself.
To love yourself, dig deeper into why you're feeling this way, and using deep love journal prompts will help you search yourself deeper, find a pattern and embrace how unique you are.
I digress a little; as a teenager and even in my early twenties, I struggled with an inferiority complex, lack of self-confidence, and constantly compared myself with others. Today, I know all that feeling came from not loving myself enough.
I changed my life and how I feel by using positive affirmations and journaling.
And gradually, with these journaling prompts for self love, I transformed my mindset, and today, I'm confident, I walk into a room with my head up, and I don't feel small among others.
Neither do I compare myself with others; I have grown to be myself and love myself unconditionally without attaching a need.
It's easy to criticize and constantly judge yourself wrongly, but once you learn to love yourself, you'll realize how excellent and powerful your thoughts can be.
So, If you need self-love journal prompts, so you can search yourself deeper, reflect and learn to love yourself, or you love yourself so much and want to deepen your self-love, I got you. Here is a list of the Best Journal prompts for self-love.
But before that, what are journal prompts for self-love?
This post may contain affiliate links, which means I'll receive a commission if you purchase through my link, at no extra cost to you. Please read the full disclosure here
What are Journal Prompts for Self-love
Journal prompts for self-love are questions or statements you write to reflect, explore and nurture a healthy relationship with yourself.
Journaling for self-love can help you understand your needs, where you are in your journey, and situations triggering self-hate, judgment, self-criticism, and unhealthy patterns that make you feel undeserving.
When you journal for self love, you have a deeper conversation with yourself but on paper, and this helps in understanding your emotions, loving yourself better, and accepting yourself wholeheartedly.
You're left with the question, "What do you put in a self-love journal?". The truth is, there is no wrong way to journal; all that matters is that you find answers.
But coming up with questions to ask yourself can be challenging, especially when you're a beginner.
To help you start your self-love journaling journey, use these 100 daily self love journal prompts, reflect on your thoughts, feelings, and experiences, and ultimately love yourself better.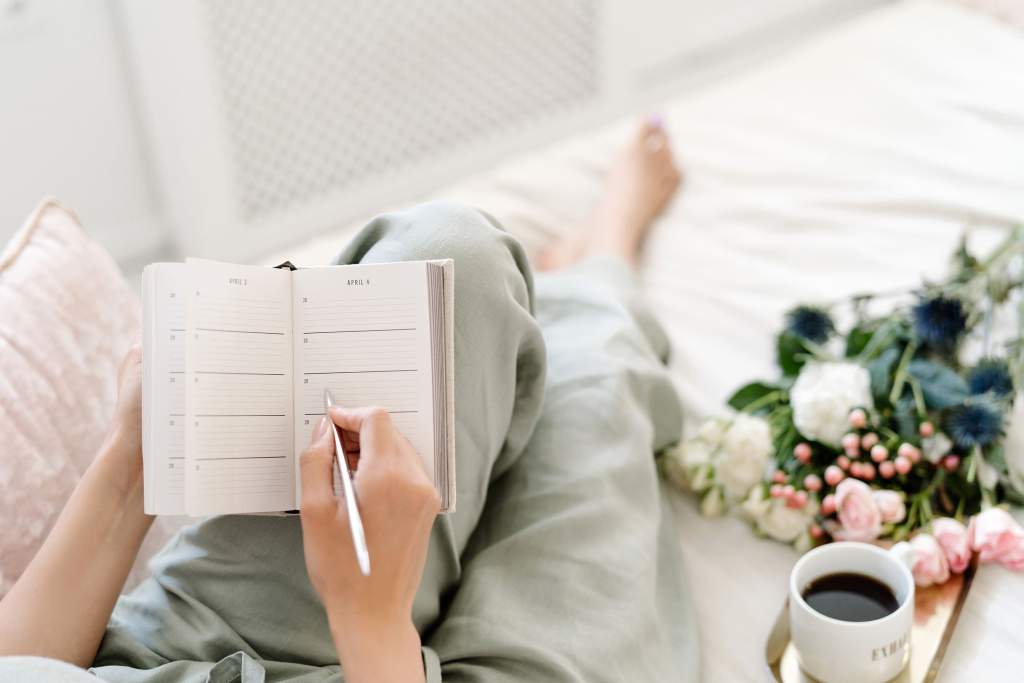 100 Deep Journal Prompts for Self Love
What do I love most about myself?
What are the most loving words I can tell myself right now?
What features of my body make me feel more confident?
What is your love language? Reflect on it and list 3 ways you can fulfill your emotional needs.
What are your best qualities?
If I was a child, how would I comfort and Soothe myself?
List at least five things you appreciate about yourself.
Write 15 words you need to hear daily to feel loved and confident.
Write an unfiltered love letter to yourself this morning.
If you loved me more, I would…
What is your definition of self-love?
Do you love yourself enough? Write how you feel and bare it all.
List 3 top boundaries and how it changes your life.
List 5 things you're grateful for today.
How do you track and celebrate your self-love and growth journey?
Reflect on a moment when you showed yourself compassion and grace. How did it ch age things for you?
Write a gratitude letter to yourself, acknowledging your growth, resilience, and hurdles you've jumped so far.
What are some mistakes you have to forgive yourself for?
Reflect on when you practiced self-forgiveness, and let go of past mistakes and how you felt.
List 3 inspiring things that you would like to do.
Reflect on when you trusted yourself and took a leap of faith.
What makes you smile on a bad day?
List 3 unhealthy habits you want to change to live and love better.
What is the biggest lesson you've learned in life?
Do I need support? In what aspects…
Describe the little memories you are thankful for.
Write a letter of gratitude to your body, thanking it for all its unique features.
What is your definition of Unconditional love?
Suppose you could love one part of your body better. What would it be?
What are your favorite self-care activities, and why do they bring you joy?
Write 10 things you are proud of.
Whare you passionate about?
Make a list of 20 things that make you happy.
List the self-care practices that nourish your body, mind, and soul.
What would you do if you could spend a day treating yourself better?
Do I feel at peace with myself? Why?
How can I make peace with myself?
Reflect on your self-talk and identify any negative or self-critical patterns.
What would you do if you had 2 hours to spend alone?
What is holding me back from blooming in Self-love?
Do I feel loved only from the perception of others or how others treat me?
How can I treat and love myself better?
Write down one thing you love about yourself every day for 30 days.
What is your happy place?
Who is your happy place?
If I could spend an entire day showing myself nothing but kindness, I would…..
List 6 things you don't want to change in your life right now.
List 10 things you're blessed with.
List 10 things you can do monthly to promote your self-love.
What would you say if you could talk to your younger self about love?
What would your dream self-care day look like? Plan for it.
Does your daily routine promote self-care and self-love?
What daily habits help you nurture self-love?
What are my core values? How do they affect the quality of my life?
In what ways do you judge yourself negatively? Write down positive affirmations to cancel them.
Describe a self-love mantra or affirmation that resonates with you and brings you comfort.
List 5 ways you can be kinder and more compassionate to yourself.
How can you honor your emotions and allow yourself to feel without judgment or suppression?
List 5 ways you can treat your body more lovingly today.
My best personality trait is…
Do I love myself enough?
Do you say No to things and situations that stress your mental health? How does that make you feel?
Are you comfortable being yourself around others?
Take a selfie without makeup and write all the beautiful things you see and feel about yourself.
Describe a moment when you felt completely at peace and connected with your inner self. How often can you repeat that moment?
List 3 ways you show love and kindness to others, and how does it make you feel?
Describe a personal growth accomplishment you're proud of and how it's positively Impacting your self-confidence.
As a child, what did you love spending hours doing?
Write a gratitude list focusing on the love and support you have in your life, including self-love and self-support.
Write an unsent letter of forgiveness to someone who hurt you in the past, releasing your anger and emotional baggage hindering your self-love journey.s
List 5 things that will make your future self proud of you.
What triggers my insecurity?
Do you feel insecure around others? In what aspects and write 10 positive affirmations to cancel.
What negative talks did you hear as a child affect how you love yourself?
Write 10 positive affirmations to cancel those negative talks.
How does being in a relationship make you feel?
Do you feel loved only when you're in a relationship?
How can I prioritize myself today?
Write a bare-it journal entry about an experience or relationship that taught you valuable lessons about self-love and self-worth.
In what aspects can you improve your love life?
In 10 sentences, describe yourself positively and affectionately./
Do I allow myself time for relaxation?
What makes me feel relaxed?
How often do I commit to my self-care and peace?
List three ways you honor and listen to your body's needs today.
What and who brings positive influences and uplifting energy around you?
Are you comfortable receiving love?
List five (5) things that make you proud of who you are becoming.
Do you compare yourself with others? In what aspects?
Write ways to let go of comparison and embrace your unique path and progress.
List 3 limiting beliefs that you'll like to release today and replace them with positive affirmations.
When do you feel the most confident in yourself? Describe an event that happened and how you felt.
Who would it be if you could remove certain persons from your life who drain you or give you bad energy?
Write down three goals that align with your authentic self and desires.
What do I need to let go of to move forward?
What self-love ritual can you add to your morning routine?
What are your power words?
Write a personal promise to yourself and hang it where you'll see it daily.
Write down five exciting hobbies you'd like to try.
In what ways can you create a peaceful and nurturing environment for yourself?
More Helpful Journal Prompts and Affirmations for you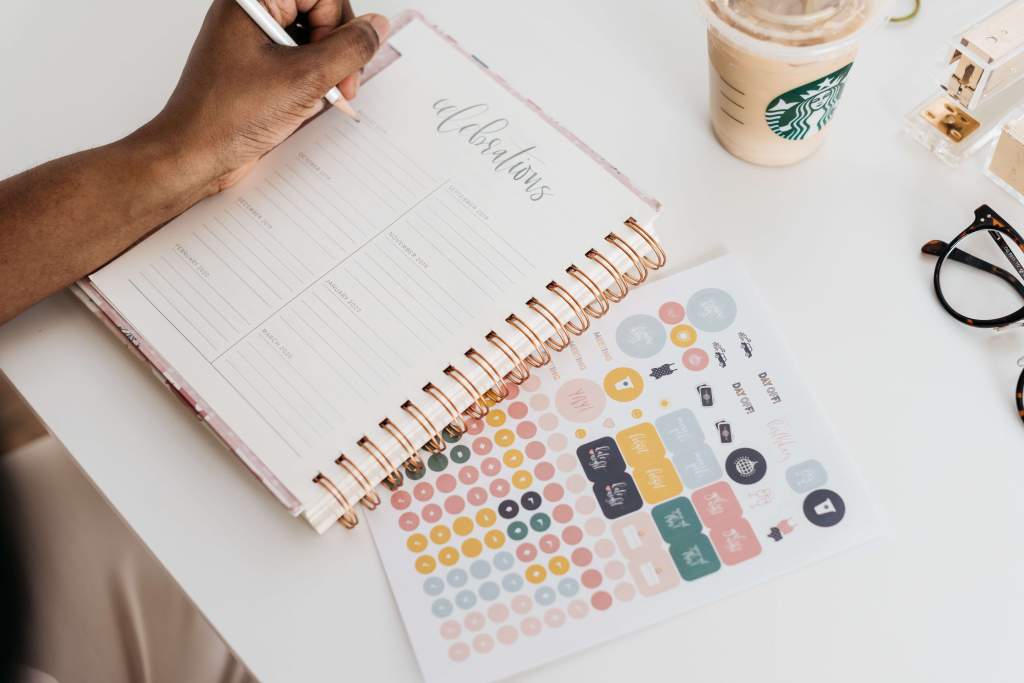 5 Tips on How to Journal for Self Love
Ready to reap the benefits of journaling for self love? These are simple tips on how to journal for self love, so you can form your journaling habit, deepen your self-love and boost your self-esteem.
1 | Set your Goals and Intentions Right:
Before you begin journaling, you must understand why you want to journal for self love.
Are you journaling to discover why you're feeling how you feel, or do you want to deepen your love for yourself?
Ask and answer these questions honestly to journal with a sense of purpose and direction.
After setting your intentions, set your goals and use your journal to track your self-improvement and self-love growth.
2 | Choose a Journal you Love
Ever gotten a new tool or item, and the thought of using it gets you out of bed in the morning? I feel this way about my journals. So, find the right journal, especially if you're a beginner or inconsistent with your self-love journaling.
It could be a blank notebook, a digital journaling app, or a printable journal; it doesn't matter.
You need to pick a journal that resonates with you, and you love it feels; it's inviting and inspires you to write.
And If you're yet to get a journal, I swear by the 5-Minute Journal; it's minimal, and I love the feeling I get when writing on it.
3 | Create a Space and Set the Mood
Journaling is fun when you don't see it as a chore but as a form of self-love. And to begin journaling, set the mood so you can journal without distractions.
Start by creating a quiet space where your journal is; it could be your workspace, table, or a cozy part of your apartment.
Set the mood right using scented candles, play soft music, and enjoy your time journaling, no matter how little time you spend journaling daily.
4 | Start with Gratitude
Before using self love journal prompts, start with gratitude. Remember, the reason, why you're journaling for self-love is to feel and love yourself better.
So, writing down a few things you're grateful for and appreciate about yourself is appropriate.
Starting with gratitude and affirming stuff you love about yourself is a game-changer, shifting your mindset from self-judgment to focusing on positive aspects of your life.
5 | Reflect on Experiences, Challenges, and Lessons
Asking yourself a reflective self-love journal prompts questions like "What triggers my insecurity?, Do you say No to things and situations that take stress your mental health? How does that make you feel?, What does love mean to me?" is essential.
Because to move forward in your journey to loving yourself better, you should be vulnerable, allow your thoughts to run wild, and be descriptive as possible in your journal.
Remember, your journal is a safe space, be vulnerable, write freely without judgments, and express your feeling.
And this is the only way you'll discover patterns and all the toxic and unhealthy things in your life that trigger self-hate.
6 | Focus on Self Love and Show Yourself Compassion
Sometimes, negative thoughts will creep into your mind. Negative thoughts like "Why am I unlovable? I'm ugly; no one wants me, I'm undeserving," and other self-judging thoughts."
When these thoughts come, counter them with positive affirmations, show compassion, and treat yourself with kindness, mercy, and grace.
And before you know it, you'll start loving yourself more as you practice self-love journaling.
7 | Be Consistent
Remember, journaling is about consistency if you want to reap the fruit of journaling faster.
Therefore, decide and establish a consistent journaling routine; it could be 5-20 minutes daily.
In your journaling space, answer one or two daily self-love journal prompts, and be honest and vulnerable.
Kindly note; You don't have to journal daily, although I recommend daily journaling, especially as a beginner.
Else, you can journal a few times a week or weekly journaling. Stick to whatever frequency works for you because consistency is the key to developing habits.
Why is Journaling Good for Self Love?
Have you ever had a conversation, and after baring all out, you feel lighter? Journaling is the perfect tool to clarify my thoughts whenever I feel stuck and need to find my way emotionally.
And the same goes for using self-love journal prompts. Because with your journal, create a haven where you write how you feel, be vulnerable, ask deep questions, and open your heart without judgments.
Additionally, when you journal, you give the thoughts in your head and voice, and you can also express your fears, desires, emotions, and let go of your insecurities, acknowledge and validate your experiences.
And by acknowledging and validating your feelings and experiences, you show yourself compassion and kindness, reflect, and gain clarity or perspective.
Journaling is good for self-love because it helps you;
Practice self-reflection
Increase your self-awareness
Leads to emotional healing
Boost your self-esteem
Reduces stress
It enables you to gain clarity and direction
It kicks out Self-hate and boosts your self-confidence
Leads and helps in self-improvement
You'll become more grateful.
My Best Tips for Promoting Self Love
1 | Be thankful for your journey and how far you've come. Always practice gratitude
2 | Use journal prompts for self-love, reflect, and affirm positive statements about yourself daily.
3 | Treat yourself with kindness and compassion because no one will treat you better than you treat yourself.
4 | Understand that you're responsible for your emotions and emotional growth. So put yourself first and set healthy boundaries.
5 | Be open to giving and receiving love.
6 | Appreciate where you're at in your journey and understand that self-love and personal development is not a destination but a journey.
7 | Be honest and vulnerable with yourself.
8 | It's okay to say no and excuse yourself from situations that don't give you peace or align with where you're at in your journey. (e.g., staying around people who constantly compare you to others).
9 | Your worth is not tied to your productivity at work or how others treat you. You're not responsible for how others treat you.
10 | Respect and love yourself and your body unconditionally.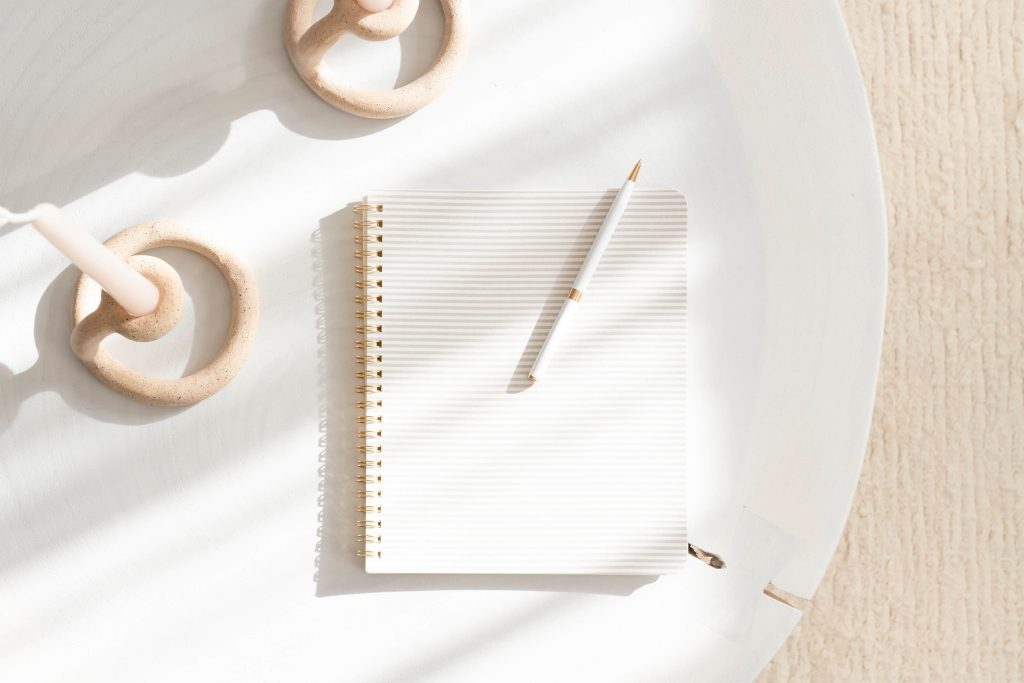 Finally, on using Journal Prompts for Self Love
Journaling is an effective tool for knowing yourself better, and if you're a beginner, using these self-love jojournaling prompts will help you get started rightly and aid your self-love journey.
However, understand that your journey to loving yourself better is not a straight jacket because some days, you'll feel unmotivated and want to speak negatively about yourself.
But always remind yourself how far you've come and use every opportunity to affirm positively.
How often do you journal? Let me know in the comment.
Found this useful? Save on Pinterest.