What the heck is the lucky girl syndrome trend on TikTok? And do Lucky Girl Syndrome Affirmations actually work?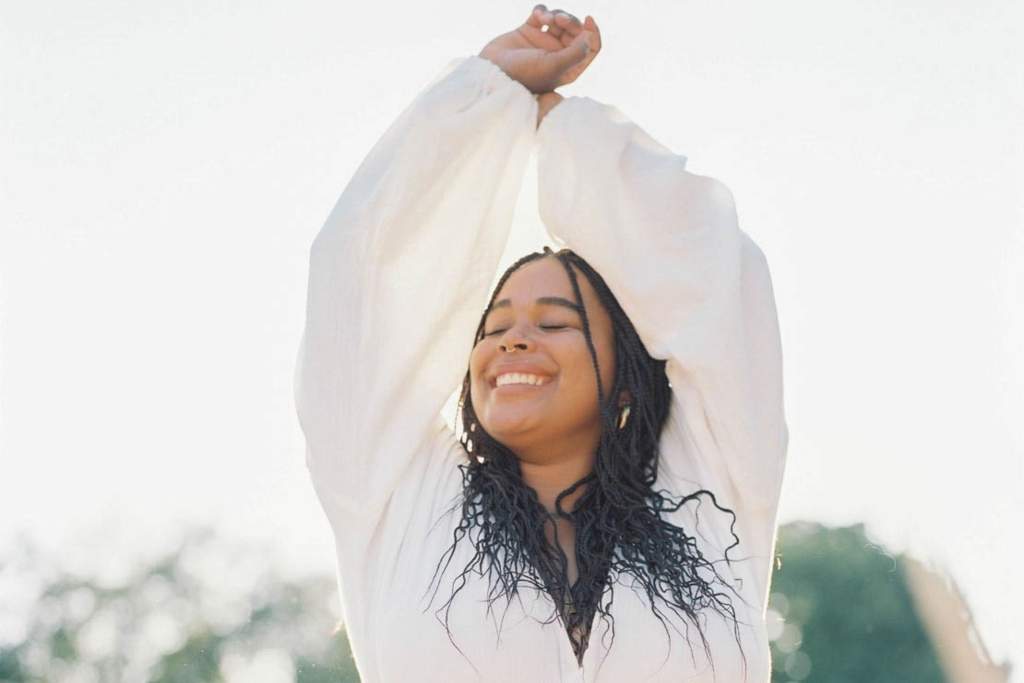 Someone I know once said "With social media these days, especially TikTok, almost anything can go viral", and this time around, the idea of being a lucky girl is trending.
However, believing that one is lucky and attracts good things isn't new and has been there for a long time.
Lucky girl syndrome is simply Gen Z's repackaged law of attraction and assumption and manifestation, where you believe you're lucky and attract luck and good things to yourself.
While "syndrome" may sound like a medical diagnosis, it's not. Lucky girl syndrome is more of a state of mind, a type of positive affirmation where you tell yourself that you are lucky and attract good things.
Although realistically, believing in lucky girl manifestation doesn't mean you'll achieve your goals and dreams if you don't put in the effort.
Instead, if you put in the effort and maintain the right mindset, the universe will align in your favor, and luck will come your way.
I digress; from my teenage days, I've always had many firsts among my peers, and I believe that I'm lucky, and I attract good things in life, career, education, etc.
And yes, I put in a lot of work daily to achieve what I desire, and the same may be for you and others.
Also, no matter how hardworking or talented you're, you may not achieve much if you don't have a positive attitude.
Because having the Lucky Girl Syndrome means you possess a can-do attitude, an unwavering belief in your capabilities, and an openness to taking risks.
You see challenges as opportunities for growth and embrace uncertainty with courage and a positive mindset that everything works for your good.
So if you're looking for some lucky girl affirmations,s o you can maintain a positive attitude and attract good things to your life, I got you.
Before that, What does luck girl syndrome actually mean?
What is Lucky Girl Syndrome?
And when you practice lucky girl syndrome affirmations, you have the positive mindset that you effortlessly attract positive outcomes and good things in your personal and professional life.
Lucky girl syndrome is the belief and manifestation mindset that you believe you're extremely lucky, you attract good things, and everything works out for your good. And because you believe, good things inevitably happen to you.
For instance, people who consider themselves lucky may experience rapid career growth, find love easily and meet ideal romantic partners, hit their goals and achieve their aspirations faster than others, and have enviable opportunities come their way without much effort.
Lucky girl syndrome involves conditioning your mind to believe that positive things happen to you and the universe works in your favor to attract good things and live a happy life.
Meanwhile, to fully enjoy Lucky Girl syndrome, you must practice and say lucky girl affirmations to yourself daily and, most importantly, speak positive words to counter negativity in your life while putting in the effort to achieve your goals.
What are Lucky Girl Affirmations?
Lucky girl syndrome affirmations are positive statements and phrases you affirm to yourself to cultivate the mindset that you're lucky and attract good things, abundance, and positivity.
Like any other self-improvement positive affirmations, they are simple yet powerful words and pep talk you tell yourself to boost your confidence, assert your beliefs and attract good things to your life.
Lucky girl affirmations will help you shift your mindset from being permissive to being optimistic while making you feel empowered and lucky and have you open to receiving good things and possibilities.
PS: While I believe that things work out for my good and that I'll get to my destination and also find things easily.
No one should sit idly and wait for luck to happen to them. If you want to feel lucky and have things easy, put in the work, affirm, and believe.
So, without further ado, let's dig into the best lucky girl syndrome affirmations for changing your mindset and attracting only good things to yourself.
This post may contain affiliate links, which means I'll receive a commission if you purchase through my link, at no extra cost to you. Please read the full disclosure here
70 Best Lucky Girl Syndrome Affirmations
I'm blessed and grateful for all the blessings in my life.
Luck is always on my side.
Good things come to me effortlessly.
I attract positive opportunities into my life.
I am surrounded by love and abundance.
I am worthy of all the good things that come my way.
I receive endless blessings and favors.
I'm fortunate every day.
I am a magnet for success and prosperity.
The universe conspires to bring me good fortune.
Luck is my faithful companion.
I am fortunate in all areas of my life.
I attract positive and uplifting people.
I deserve all the wonderful and good things in life.
Good luck flows to me effortlessly.
I am worthy of my desires and aspirations.
I am always at the right place at the right time.
The best things always come to me.
I radiate positivity
I attract good fortune.
My life is filled with lots of laughter and peace.
Lucky breaks come my way frequently.
I'm a success magnet, making strides toward my dreams every day.
I am grateful for the abundance in my life.
Great things always happen to me unexpectedly.
The universe supports my dreams and goals.
Luck is constantly working in my favor.
I am a magnet for extraordinary opportunities.
I am open to receiving unexpected blessings.
I'm beginning to believe that I'm worthy and lucky.
Every day, I am showered with good luck.
I am a lucky person, and I believe in my luck.
I am a VIP. Doors are open for me anywhere I go and can never be shut.
I am in alignment with the flow of abundance.
Luck follows me wherever I go.
I am fortunate in my relationships, career, and health.
I am the epitome of luck and success.
I am deeply grateful for all the luck in my life.
The universe brings me good things.
My prayers are always answered.
I am surrounded by abundance, and opportunities effortlessly flow into my life.
I don't chase good things; I attract them.
Being lucky is all about the right mindset and mindset, and I embrace the lucky mindset today.
I believe in myself and all the good qualities I possess.
Things easily work out for me.
My life is beautiful, and my dreams are chasing me.
I'm extremely lucky, and every day, I am becoming luckier.
I am a magnet for opportunities and beautiful encounters.
I am overflowing with good luck and abundance.
I have all I need in me to grow and change my life.
I am positioned for favors, and people love to do things
I attract my dream job.
I always achieve my goals when I set my mind to do it.
I'm above my limiting mindset and embrace a possibility mindset.
I'm excited about all the good things life has to offer.
I manifest every good thing I deeply desire.
It is safe for me to have it all. Therefore I let go of my scarcity mindset.
I release all negative attachments and Open up space for beautiful experiences in my life.
I trust my intuition to guide me toward the right path and make lucky choices.
I always receive special treatments
Miracles are a natural occurrence for me.
I can create anything I desire.
I am starting to believe that life is easy and that I can have everything I want.
Every morning, I believe I get Luckier.
Luxurious experiences are normal for me.
I'm the luckiest person I know.
I trust the person I am.
I always experience financial abundance.
I'm the epitome of joy and a happy life.
I'm becoming the Version of myself I've always dreamed of.
These are the best affirmations for lucky girl syndrome so you can start speaking to yourself today and change your life.
But, you may be wondering, does Lucky Girl affirmation actually work?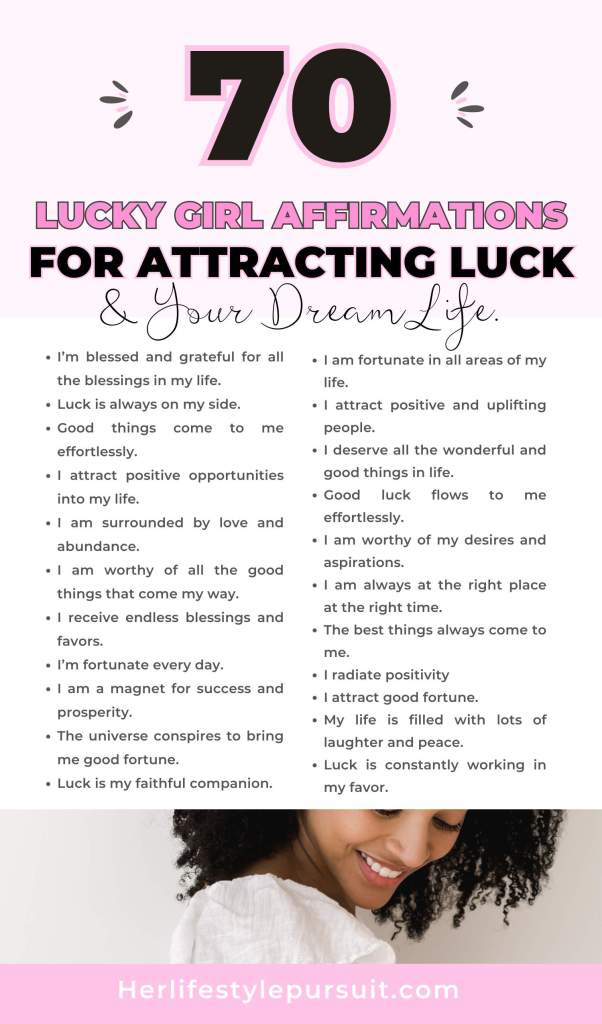 Do Lucky Girl Syndrome Affirmations Really Work?
Yes, lucky girl affirmations are just like any other affirmation. The primary purpose is to speak into your subconsciousness until you believe.
And like any other positive affirmation, lucky girl affirmations can fuel you to achieve your goals and dreams while keeping a positive and optimistic mindset.
From my experience: I always believe that everything works together for my good and that "God never leaves His own behind."
Therefore, no matter the challenges, situations, or positions I find myself in at any given time, all will work out for me.
I have seen this belief manifest many times, from when I had to relocate to a new state where I had no family and friends and started living fully independently of anyone at 23.
To experience business growth, favors, and open doors in unexpected situations. I have this lucky girl belief that "Good things will always happen to me and that Miracles are regular occurrences in my life."
And that's some of my story. However, I don't sit around and wait for these things to happen to me. Most times, I position myself for these good things to come.
For Instance, If I want to fill up my design client calendar, I'll position myself in groups where I can find these clients, pitch when job offers come, and 90% of the time, I get these offers.
I hope you understand my point and only follow these Lucky Girl Syndrome Tiktok trends if you put in the effort.
The purpose of lucky girl affirmations is to tell your subconscious that you're worthy of good things, and they come to you easily while working to achieve the good things you desire in life.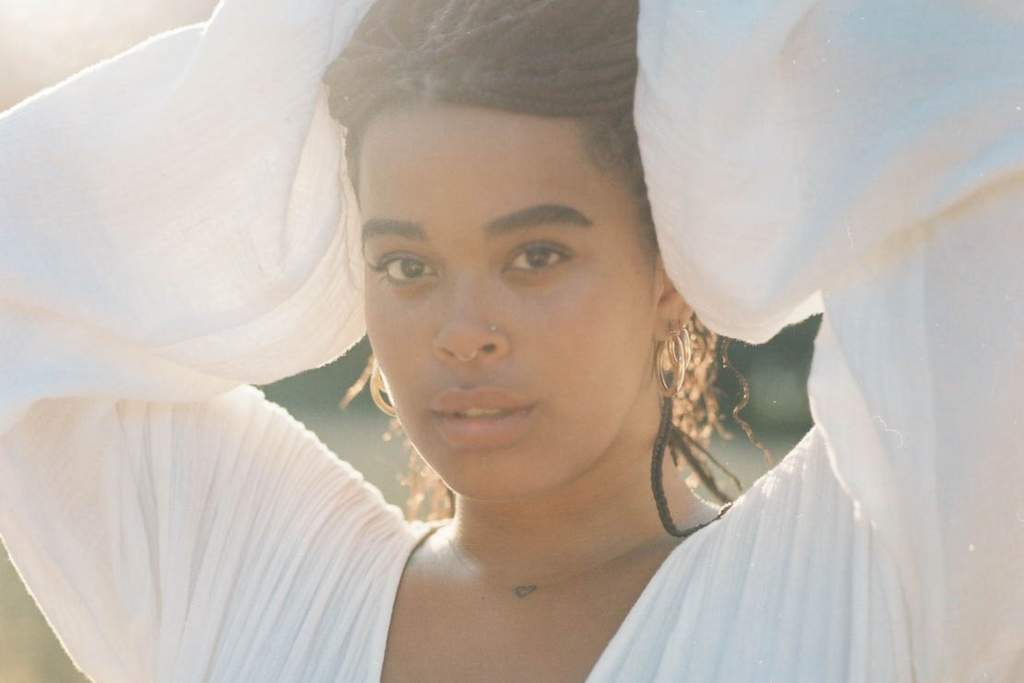 How to Have Lucky Girl Syndrome
1 | Practice Gratitude:
The whole concept of lucky girl affirmations sterns from being optimistic, self-confident, and trusting yourself. But how can you trust yourself if you're ungrateful about the things you have right now in your life?
If you want the lucky girl syndrome, start by acknowledging and appreciating the good things in your life.
You should focus on the beautiful things you have in your life right now, the things that are going well right now, and how capable you're of achieving your big goals.
If you need help figuring out where to start, start with gratitude journaling for self-improvement.
2 | Change the Story you Tell yourself
One of the biggest "DON'T" of lucky girl manifestation is "playing the victim" or always having the victim mindset.
You can't feel lucky if you constantly feel like the victim and say horrible things like, "Nothing works for me; I'm always unlucky. But, unfortunately, luck is never on my side; I can never escape my current situation."
These limiting beliefs can hold you back from making any progress in life.
With a negative mindset, you can never feel better about yourself. Instead, start speaking positively, and cancel those negative thoughts with lucky girl affirmations such as;
I beginning to believe that all things work out for my good.
I'm lucky, worthy, and deserving of good things.
I'm beautiful, and I'm favored wherever I go.
I'm starting to believe that luck is always on my side.
I achieve anything I set my mind to accomplish.
You can use These powerful lucky girl affirmations to cancel those negative thoughts.
3 | Affirm that You're Lucky and Attract Good things
When you eliminate negative thoughts, the next step is to continuously and consistently use lucky girl syndrome affirmations that resonate with you.
And don't just say them in your heart. The best way to say your affirmations are to say them out loud, and you can do this in front of a mirror.
Therefore, continuously look at yourself in the mirror and speak those words to bring your lucky girl manifestations to life.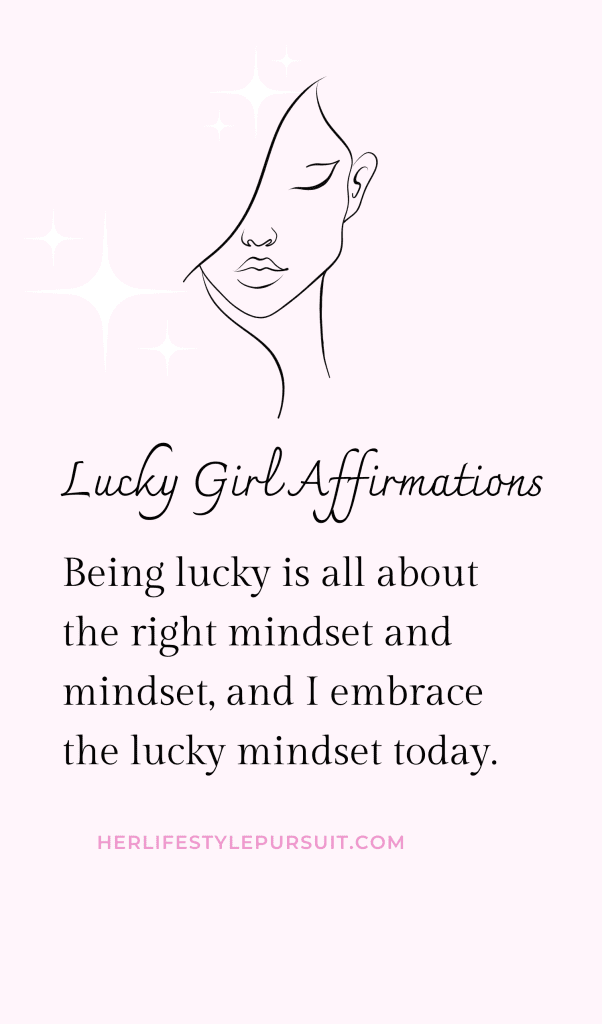 4. Believe That You're Lucky
It's so easy to feel like giving up, especially when you're not getting the results you hope for immediately.
However, manifesting anything may take time because work is required; you must believe for it to work.
Consider those limiting beliefs you've been holding that no longer serve you, and cancel each with positive affirmations.
So keep speaking to your subconscious and believing you're lucky until those positive words become a reality.
Also, be open to new experiences and believe opportunities will come your way because luck comes unexpectedly. So be open and always step out of your comfort zone.
And while you're learning to transform your mindset, you'll need to unlearn certain habits that no longer serve you. And also be kind to yourself.
5. Work Hard and Take Calculated Risks
While believing that everything works out for your good, don't sit idly and wait for these things to come.
I know some Lucky Girl syndrome affirmations Tiktok videos speculate that these good things will happen to you whether you do the work.
I disagree with them because in life while waiting for God and the universe to favor you. You must put in the work and be prepared to succeed and meet great opportunities.
A quote by Zig Ziglar: "Success occurs when opportunity meets preparation."
And even the Bible states that "Faith without works is dead -James 2:26.
So prepare, and position yourself to manifest those lucky girl affirmations you speak to yourself by taking calculated risks, honing your skills and knowledge, and being open to receiving good opportunities.
6. Surround yourself with positivity
The quickest way to falling back into the rut of self have, and self-victimization is surrounding yourself with people, situations, and energy that don't align with your growth mindset. So, surround yourself with people that influence and inspire you to become better.
Another way to generate more positive energy is by reading books on self-improvement and using daily affirmations to improve self-love and self-care.
Surround yourself with positive and supportive people who uplift and inspire you. Their positive energy can influence your mindset and create a more optimistic outlook.
7. Trust Your Intuition and Learn from Failure:
Don't allow setbacks and challenges to discourage you. Instead, continuously analyze and ask yourself what happened, why it happened, and what you can do to make it better.
Always remember to let go of the outcome. Rather than focusing on the outcome, focus on becoming a better version of yourself because, most times, luck happens to us when we don't expect it.
Because luck is just one factor in life, and it's not something you can entirely control, focus on a positive mindset and be open to opportunities.
Now you know the things to do for lucky girl manifestation. But what are the things you shouldn't do if you want to embody the Luck Girl Syndrome affirmations?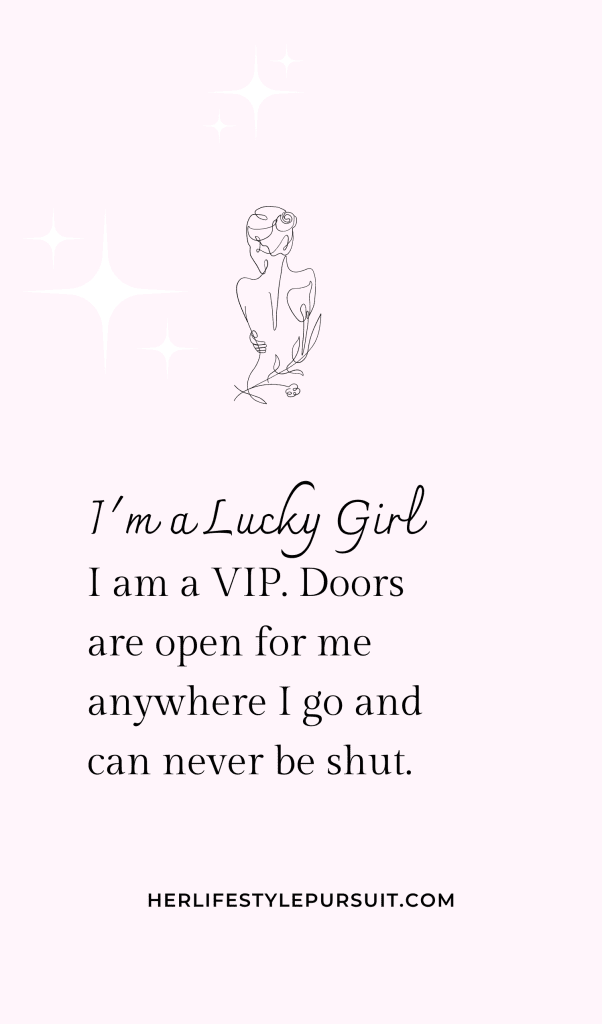 Don'ts of Lucky Girl Syndrome Manifestation
These are some habits you should get rid of to become a lucky girl and manifest your dream life;
Playing the victim
Always dwelling on negative
Never ready to take new opportunities
Comparing yourself to others
Relying solely on luck to succeed in life.
Always Ungrateful.
Never seeing the best in yourself.
More Helpful Self Growth Tips
Finally, practicing lucky girl syndrome affirmations will help you develop the right mindset and assert your belief that you attract good things and that things work out for your good.
However, don't rely solely on this to be successful and achieve your goals in life. Instead, you should speak the affirmations while working for the best.
What are your thoughts about using lucky girl affirmations? Have you used them? Do they work for you?
Found this useful? Save for later on Pinterest.