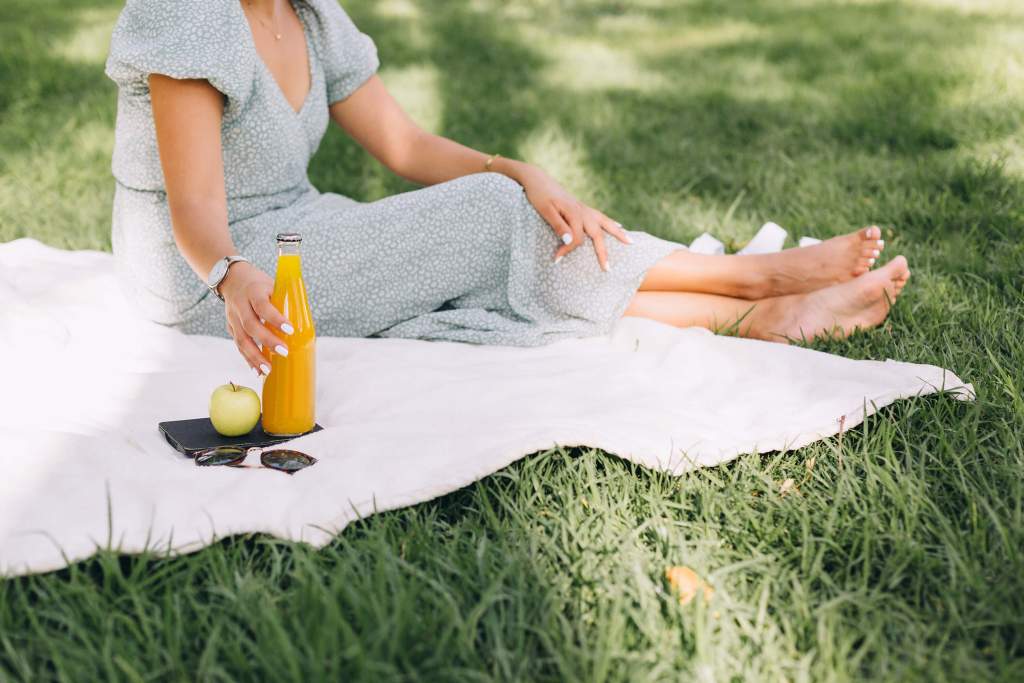 Looking for summer activities for Adults in 2023, so you can plan your summer and enjoy the most out of this season?
Summer is almost here, and I bet the kids are ready for beautiful summertime.
But what about adults? Do you feel like there are no fun summer activities for adults apart from going on a vacation that may be expensive and out of your budget right now?
If you feel that way, that's unsurprising because, as they say, "adulthood is all bills."
However, adults should let their worries and guards down and have fun.
Moreover, the sky is bright, the weather is warm, the vegetation is lush, the beach is calling, and you have long nights, making camping merrier.
Whether you're looking for some cheap summer activities for adults, you want some indoor activities to try this summer alone, or you're looking to have a blast and need fun summer activities with friends.
Luckily, I got you because I want you to have a swell summer; I've put together the best summer activities for adults, so you can enjoy your summer.
This post may contain affiliate links, which means I'll receive a commission if you purchase through my link, at no extra cost to you. Please read the full disclosure here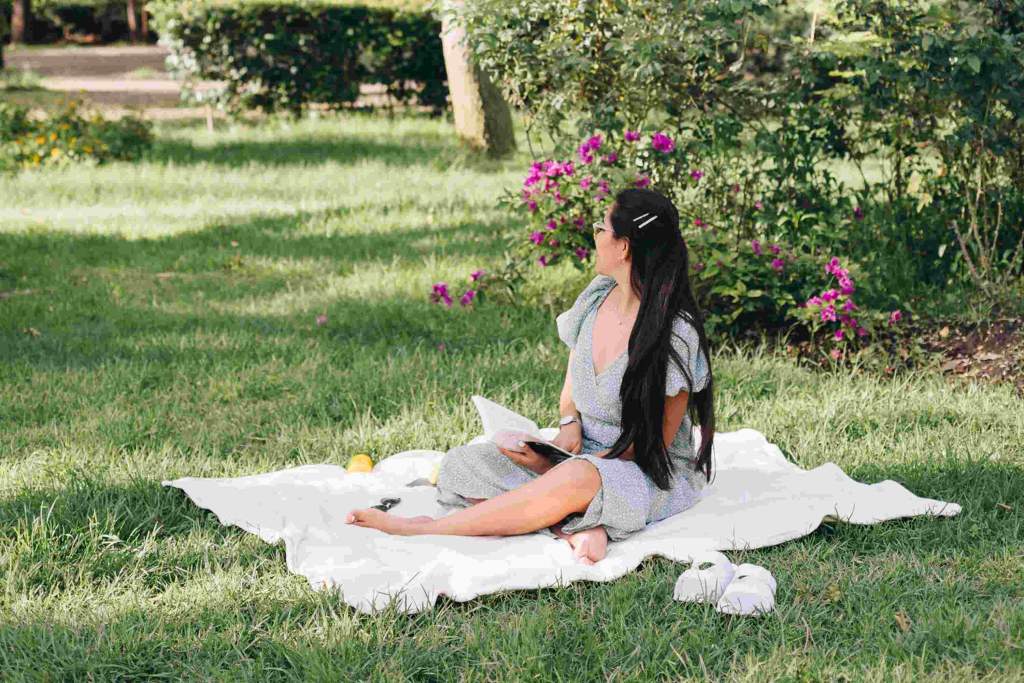 214 Fun Summer Activities For Adults for An Unforgettable Summer (2023)
Ready to have a blast this summer and let down all your worries? Get ready to create an unforgettable summer experience without breaking the bank with these insanely creative and fun summer activities for adults.
Outdoor Summer Activities for Adults
1 . Go on a Road Trip
Explore a new city
Read a Book Outside
Riding a Bike
Fishing
Bike Touring
Lounge Near Waterbody (Could be pool, ocean, and lake).
Have a Staycation in a resort.
Camping
Go to the beach
Watch the sunset and sunrise for a day.
Host a backyard party.
Recreational nature walks (This is a less strenuous type of hiking).
Go to a Picnic in a park (One o my favorites, I'll do this with my partner this summer).
Go bouldering alone or with friends.
Go on a Whale watching tour.
Visit a Wildlife Safari. You can find assortments of wildlife nature parks. (I traveled outside my state to visit nature parks, I spent 2 weeks, and it was one of the most tranquil moments of my life ).
Start a backyard Garden.
Decorate your backyard for summer.
Go on a museum and cultural tour (another of my favorites).
Attend basketball game
Go on a photography tour and create an entire album for your 2023 summer.
Go bed sighting
Volunteer in a Nature park and go for anti-poaching patrols (this is fun, and you'll get to exercise).
Attend a park-themed Yoga session.
Go horseracing.
Attend food fair.
Play a soccer game or attend a soccer game.
Go swimming
Go caving.
Go geocaching.
Ice skating.
Go sledding.
Hammocking in the park
Play Hide and Seek with family or friends.
Rock climbing.
Disc Golfing.
Go Longboarding
Motorcycle Riding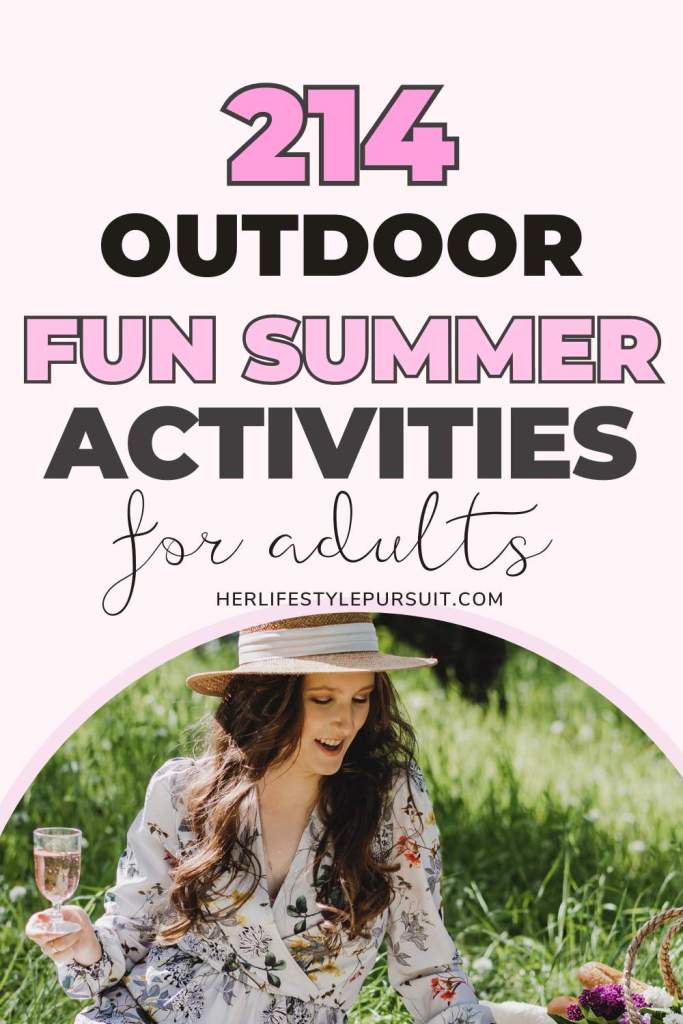 Insanely Fun Summer Activities for Adults
Water balloon or water gun fight.
Attend a music festival.
Go on a Zipline adventure
Try scuba diving
Try crafting activities
Go on a Wine tasting spree.
Go on a local Restaurant tour.
Dance in the rain.
Try window shopping for a day (lol, this can be fun if you have a crazy bestie like I do)
Attend a film festival
Watch movies at the cinema
Take a ride in a hot air balloon.
Visit farmers Market
Go on a couple's date
Host a Board Game Night
Host or attend a sip and paint (this is fun and creative).
Take an intro ceramics class
Visit a tourist attraction in your hometown.
Take a walk in a Park and read.
Visit a park with your pet.
Go on a food tour (I love this).
Go to a garage sale
Attending food truck events
Make a summer playlist
Decorate your home with summer vibes.
Paint your nails with beautiful summer nails and colors.
Go on a vacation
Take a book reading Challenge
Go to the amusement park
Pick up a new hobby.
Go for a sunset walk
Host a BBQ Party
Go tent camping for more than two nights with your partner and pet.
Collet seashells and go beachcombing
Build sand castles on the beach.
Take a dancing class
Visit an art Gallery.
Go thrifting.
Create a self-care menu and Jar
Carnivals.
Go to theme parks near you.
Create a summer Gratitude Jar.
Indoor Summer Activities for Adults
Read new books.
Start a Blog (Starting a blog is a life-changing summer activity).
Binge-watch your favorite shows.
Try new recipes weekly from YouTube and Instagram (I did this last summer. For a food lover like me, it's so fun, ad I learned a bunch of new recipes).
Play Video games.
Join Online meditation classes.
Play drinking games
Take a Bible study & prayer challenge, and grow in your relationship with God (I'm currently on a 365 days challenge. You can create a challenge for summer).
Enjoy breakfast in bed.
Watch sunrise and sunset from your window.
Create a vision board.
Host a movie marathon and watch your favorite movies and shoes.
Call your family and friends.
Clean your apartment.
Organize your closet and home.
Take classes in areas you want to improve on.
Learn a new language (In 2021 summer I started learning Spanish for fun on Duolingo; surprisingly, I'm 800+ days strong).
Enjoy a home spa at least once a week.
Play Board Games. (Scrabble, monopoly, chess, etc.).
Journal every day (This is a game changer).
Clean up your social media.
Shop online for things you need.
Play the mini indoor-bowling game.
Create a self-care menu.
Take a wellness Challenge.
Write a short story.
Write unsent letters to your younger self.
Play virtual games with friends.
Make 4th July cake.
Participate in virtual DIY projects and competitions.
Enjoy a DIY bath bomb-making session.
Make your scented candles at home.
Have a "Mukbang".
Start a lifestyle Youtube Channel and document your summer activities.
Rent an Airbnb and enjoy a staycation.
Cheap Summer Activities for Adults
Blow bubbles.
Have a walk in the park.
Sit outside and enjoy the cold breeze while counting the stars.
Journal for 5 minutes daily (Start with journaling prompts).
Go camping alone
Start a backyard gardening project.
Enjoy homemade popsicles.
Ride a bike
Take an online fitness challenge on Youtube.
Dance in the rain.
Visit a zoo or museum.
Go on a nature walk (I love nature walks).
Go for a swim in a local pool or lake.
Try a week home cook meals challenge.
Have a family game night.
Declutter your apartment.
Play with sparklers on July 4th.
Sit in your backyard and enjoy a cup of your favorite drink while reading.
Pick a bouquet of wildflowers.
Try a new recipe.
Summer Activities for Adults at Work
BBQ Cookoff Challenge.
Team building rope and obstacle course.
Group camping.
Hot air balloon ride for team members.
Cooking competition.
Group painting class.
Yoga and meditation in the park for team members
Park clean-up activities.
Picnic in the park.
2 Truths and I Lie game.
Board Games competition.
Dance competitions and classes.
Pottery class.
Group Skill boot camp class.
Beach party with fun games.
Group Bonfire night.
Team staycation at a local resort.
Group beach clean-up project.
Water gun & balloon fight.
Scavenger hunt for team members.
Hiking together.
Fishing.
Local charity volunteer project for team members.
Three-legged racing.
Group dinner with Karaoke night.
Fun Summer Activities with Friends
Cooking at each other's home
Host a book club with friends.
Go shopping together.
Host a themed Picnic with your friends.
Go on a wine-tasting adventure with friends.
Go cliff
Have a fun pool party with friends.
Go clubbing with friends.
Play truth and dare with friends (I'm not a massive fan of this game).
Have your friends over for a cookout.
Go on a spa date with your friend.
Attend a concert together.
Try a 7-days Journaling challenge with your friends.
Get on a fitness challenge with friends.
Have a movie marathon with friends.
Go on a hot balloon ride with friends.
Go hiking with friends.
Have a photoshoot with your friends.
Have a 7-days bible and prayer challenge.
Go on a brewery or winery adventure.
Play "hide and seek" with friends.
Play board games with friends.
Have a Pedicure and Manicure session with your friends at home.
Go on a sunset cruise together.
Plan and have a mini vacation to a nearby city
Go on a road trip with your friends.
Attend an outdoor concert together.
Take a trip to a nature park together.
Make a summer bucket list with 1 or 2 activities each friend wants to try out and achieve in the summer.
Go ziplining with friends.
Participate in a local run together.
Visit museums together.
Reflect on various aspects of your life together (I do this with my friend; it helps bind and lets you get things off your chest).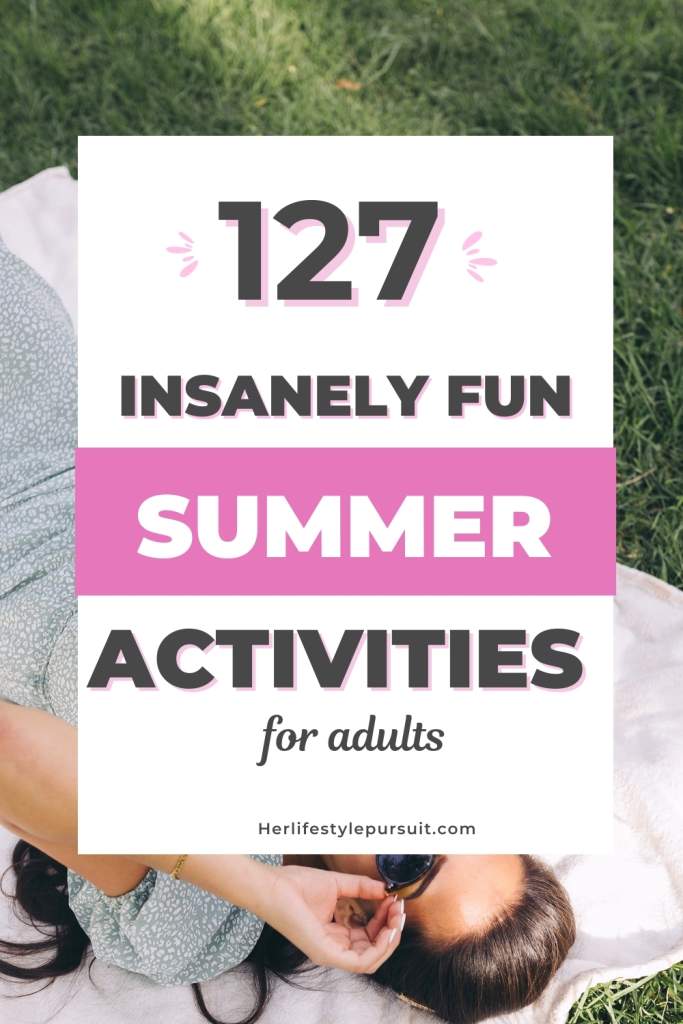 Easy Summer Activities for Adults
Buy fresh food from a local farmer's market.
Walk around the house barefoot.
Drink more water.
Dance to songs at home.
Sing aloud in your home.
Make a list of 50 things you love about yourself. You can put one down every day in a journal until 50 days are over.
Dress up nicely and go out.
Hold hands with your partner and take a stroll.
Take photos with your pet daily and make a photo album (This is super fun).
Visit an amusement park.
Run through sprinklers.
Pick your berries and vegetables.
Do a pub crawl with your best friend.
Try a new food.
Change your hairstyle.
Volunteer for a week or month at a local charity or organization
Have a barbeque with friends.
Visit an Aquarium.
Attend a charity run.
Enjoy a drive-in movie.
YOU'LL LOVE THIS: 105+ Aesthetic Summer Bucket List Ideas for an Exciting Summer
Tips for Creating the Best Summer Bucket List for Adults
When creating a summer bucket list, it can be a tad bit difficult deciding the type of activity to include in your list, especially when you want to make the most of summer on a budget. Here is a list of important actionable tips to consider when creating a summer bucket list for adults.
1 | Set Your Summer Goals
Summer is all about fun, and jumping on the bandwagon is pretty tempting; after all, it's summertime, and you want to have fun.
Summer is an excellent time to achieve many things, enjoy them and reach your overall life goals. So think about setting goals for summer and ask yourself these questions;
What do I need most in my life?
How do I feel about my life?
How can I Improve my life?
If I can do one activity this summer that will change my life, what will it be?
For instance, if you're struggling with weight, summer may not be the perfect time to munch on all unhealthy foods. Creating a summer activity list with things that can help you stay healthy will be helpful in the long run.
Another example; is if you're dealing with low self-esteem, try journaling and affirming beautiful things about yourself. Taking on summer activities that help you love and understand yourself better will be more helpful (I hope I'm making sense).
Therefore, decide on your goal and create a summer bucket list to help you improve your life quality and how you feel about yourself.
PS; I have been at home working and achieving my goals for 202, so this summer, I plan to spend time with others and have fun.
However, I spent last summer working and learning new things like (business branding).
2 | Set Up a Budget for the summer
I know you want to have fun this summer, but first, set up a budget and determine your budget and the total amount you'll spend in the summer.
Start with a list of low-cost or free summer activities for adults that you want to try: hiking, visiting a nature park or a wildlife sanctuary, going for a run, volunteering, picnicking, and attending free concerts and music festivals.
The truth is, you can have fun at every level, and you don't have to break the bank to enjoy your summertime.
And if you plan to travel, take road trips, or go on a vacation in other countries, then it's wise to save ahead to achieve this.
3 | Include Summer Activities that Promotes Self-care and Wellness
When planning your summer activities for adults, include summertime activities that promote wellness and relaxation.
Let's face the truth, life can be hard sometimes, and your summer activities list shouldn't be filled with activities that leave you exhausted.
Add activities such as Spa days, yoga and meditation classes, Bible study, beach dates and Picnics, journaling, binge-watching movies, and fitness challenges to your list.
Summer activities such as reading a book while hammocking can go a long way in promoting peace of mind.
4 | Consider the weather When Planning your Summertime
Imagine your skin getting burnt and irritated after summer. If you live in an area with hot summer days, consider focusing on indoor summer activities for adults or schedule your activities for early morning and evening.
PS: Using sunscreen during the hot day of summer is essential to avoid sunburn, and if you plan to go out in the summer, then be consistent with your skincare routine.
5 | Think about the interests of your Friends or Group
Consider others in the group when creating a summer bucket list for adults. Because everyone will want to enjoy their summertime, you should include certain activities others love.
While others may prefer crafty or artsy activities, some may prefer traveling, vacationing, spending more time indoors, binge-watching their favorite shows, etc.
For instance, I'll create a group for planning summer activities with my friends and ask everyone to share 2 to 3 activities they'll love to try. This serves as a base for creating fun summer activities everyone will love and enjoy.
6 | Be Open to Trying New Things
For me, the summer months are for adventure, trying out new things, visiting new places, searching for the next best restaurant with an appetizing menu and tasty food, and spending Intimate time with myself, friends, family, and partner.
So, if you want to make the most out of your summer days, be open to new things. If you don't like them or feel uncomfortable doing them, you can skip to the next item on the list.
But how do you know what you'll love if you don't try it?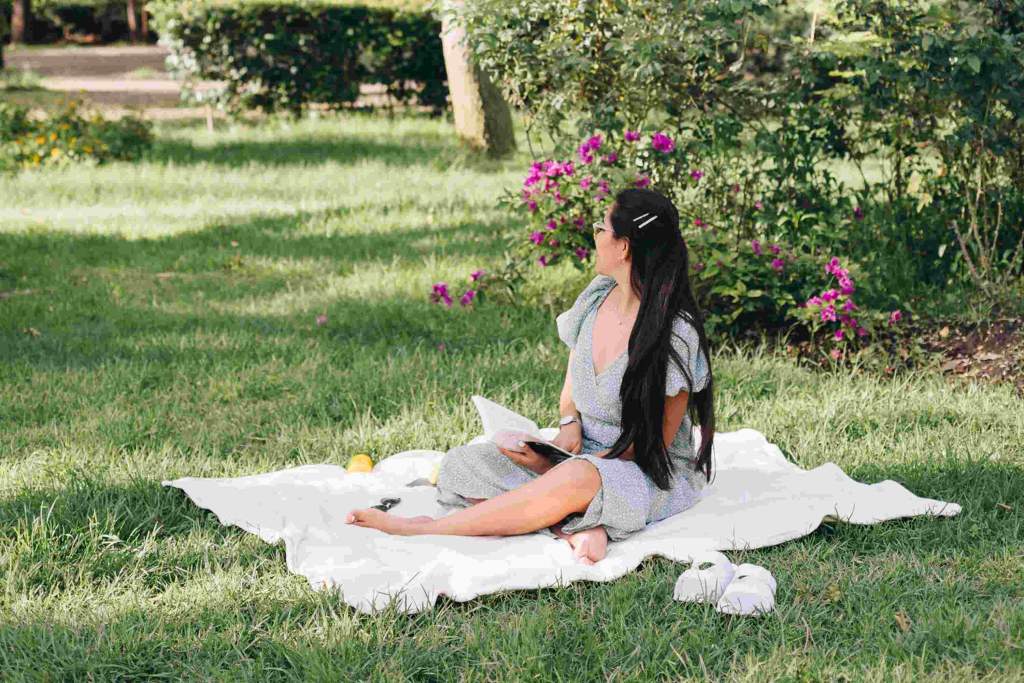 Fun Summer Activities for Adults FAQ
What's the most popular outdoor Summer Activity for Adults?
People take on various summer activities based on interest. But the most popular summer activities are, going to the beach and lounging near a water body, swimming, hiking, jogging, running, playing board games, biking, road trip, etc.
How Do You Spend a Day in Summer?
Supposing you're setting a day aside to have fun in the summer, how do you spend a whole day having fun to the fullest?
So stay energized and start with something you love that requires energy. For me, it will be journaling or affirmations, and next, you try your favorite activities like;
Picking flowers.
Making a new recipe
Going on a Picnic
Go to the beach.
Go biking.
Go fishing or bird watching.
Playing video games.
Take a day trip or go for a staycation in your favorite resort.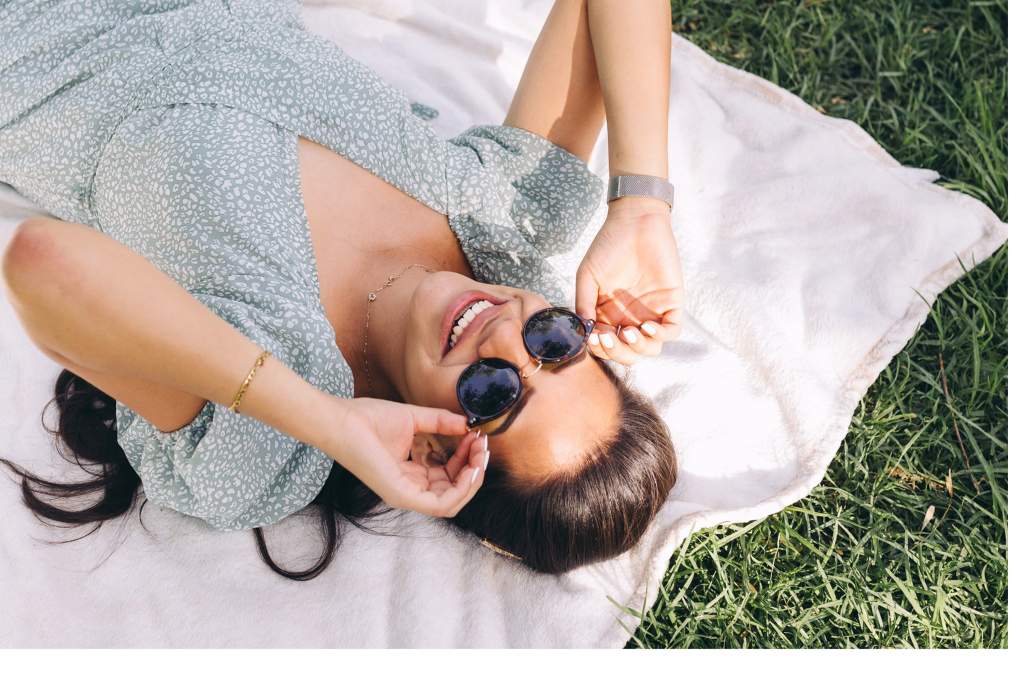 Download the Free Summer Bucket List Activity Printable
Ready to rock your summer? Snag our simple Printable PDF summer bucket list and make the most out of your summer.
Finally, what activities will you be trying out this summer? Tell me something new you'll be trying and your regular summer activity in the comments.